UTSA Votes 2012: UTSA community members are now deputy registrars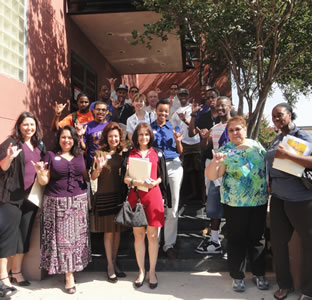 Share this Story
(Aug. 30, 2012) -- On Aug. 28, more than 60 UTSA students, faculty and staff took an oath and were sworn in as volunteer deputy registrars, who will promote voter registration on the UTSA campuses and register citizens to vote. The new deputies attended 30-minute training sessions at the Bexar County Voter Registration Department and accepted the position of trust and responsibility for the citizens they will register to vote.
As lead partners in the civic engagement element of the SA2020 initiative and the Southwest Voter Registration Education Project, the UTSA Student Government Association, UTSA Office of External Affairs and UTSA College of Public Policy are collaborating to get at least 100 UTSA community members deputized to promote voter registration. Deputies will hand out voter registration cards at various events across the campuses, in classrooms and in meetings, and will collect the cards and deliver them to the Bexar County Elections Department by the Oct. 9 deadline.
In November 2010, UTSA students generated some 2,700 newly registered voters. This fall, in preparation for the November national elections, UTSA deputies plan to register at least 5,000 new voters.
Deputy volunteers will be available at several campus events to register voters. UTSA's get-out-the-vote drive is a nonpartisan effort led by students to educate the campus community in the federal electoral process.
How can you register to vote? You will recognize the "Register Here to Vote" signs around campus, and deputies have "Register to Vote with Me" buttons.
Check the Bexar County Elections website to see if you are registered to vote in Bexar County and if your address is current.
Early voting at the UTSA Main Campus runs Oct. 22-Nov. 2 in the University Center Bexar Room (1.102). For more information, contact External Affairs at 210-458-4009.