UTSA student move-in Aug. 24 kicks off fall semester and Roadrunner Days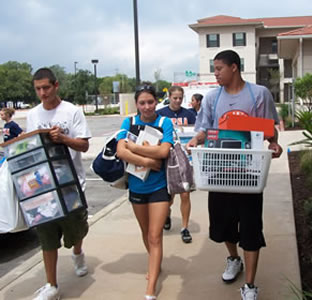 Share this Story
(Aug. 21, 2012) -- Beginning Friday, Aug. 24, more than 3,500 students and their families will unload a semester's worth of necessities as they move into UTSA resident housing and get situated before the first day of classes, Wednesday, Aug. 29.
The move also is the first official event of Roadrunner Days, a series of events and activities that give students an opportunity to preview campus life and experience the excitement of UTSA's growing campuses.
Some students who move into housing are returning from the previous semester, however, more of the moves will be first-time college students. To help with the move, hundreds of faculty, staff and students will be on site to volunteer.
UTSA Roadrunner Days will continue through the first week of class and cap off with Roadrunners Late Night. For more information, visit the Roadrunner Days website.