UTSA Quantitative Literacy Program introduces redesigned core courses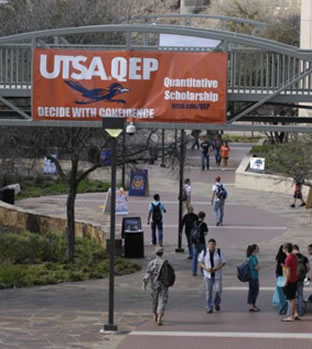 Share this Story
(Aug. 27, 2012) -- The Quantitative Literacy Program (QLP) at UTSA begins its second year of implementation by featuring 12 core courses, redesigned to incorporate quantitative literacy, in 88 sections for the fall 2012 semester. The five new disciplines accepted to participate in the program include chemistry, history, mathematics, political science and writing. Additionally, seven courses in anthropology, astronomy, biology, economics and sociology are offered again this year. (Below, see a list of all Q-courses.)
Core course redesigns will be presented 9 a.m.-3:30 p.m., Tuesday, Aug. 28 in the UTSA Center for Professional Excellence in Business Building Room 1.01.20 at the Main Campus. Interested faculty and students are welcome to attend the presentations. For more information, contact QLP at qlp@utsa.edu or 210-458-8632.
Developed as part of UTSA's reaccreditation by the Southern Association of Colleges and Schools, the Quantitative Literacy Course Development Program redesigns course curriculum to enhance quantitative reasoning and communication proficiency. These skills allow students to better understand and evaluate data, assess risks and benefits, and make informed decisions in all aspects of their lives.
"Our QLP team has gone back to the basics with regard to skills related to empirical observation, quantification and communication of data," said UTSA anthropology professor Joanna Lambert, a current Q-course instructor. "This has yielded very important insights into what our students need."
The QLP provides training workshops for faculty members to review course materials and to assist with the integration of quantitative content in student learning objectives. The workshops offer faculty the opportunity to work on creating assignments that incorporate quantitative literacy. The result of these focus groups determines the modifications of course materials for the next academic year.
The QLP helps students improve their quantitative literacy skills through core course enhancement. This offers students the ability to analyze, interpret and evaluate real data to make informed decisions across all fields of study. Through Q-courses, students have the potential to reach a level of quantitative mastery that will help them compete successfully for top professional jobs or admission to graduate schools.
"The long-term benefits and the importance of advocating quantitative literacy cannot be overstated," said John H. Frederick, provost and vice president for academic affairs. "The QLP assists our students in developing the reasoning skills and practical literacy essential to academic success and to becoming responsible, self-reliant individuals."
QLP is UTSA's implementation of the Quality Enhancement Plan. The QLP redesign team includes Ermine Orta, Kimberly Massarro, Gail Pizzola, Patricia Verdines and Raj Boppana.
------------------------------
Fall 2012 Q-course list
Introduction to Physical Anthropology (ANT 2033)
Introduction to Archeology (ANT 2043)
Contemporary Biology I (BIO 1233)
Biosciences I (BIO 1404)
Introduction to Sociology (SOC 1013)
Economic Principles and Issues (ECO 2003)
Introductory Macroeconomics (ECO 2013)
Introductory Microeconomics (ECO 2023)
Basic Chemistry (CHE 1073)
Algebra for Scientists and Engineers (MAT 1073)
Introduction to American Politics (POL 1013)
Freshman Composition I (WRC 1013)
Freshman Composition II (WRC 1023)
World Civilizations to 1500 (HIS 2123)
World Civilizations to 1500 (IDS 2203)