UTSA International Trade Center conducts final SBDC training in Mexico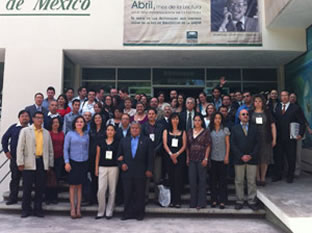 Share this Story
(Aug. 14, 2012) -- UTSA International Trade Center staff members will conduct the fourth and final training module on how to successfully run a Small Business Development Center (SBDC) Aug. 15-16 at the Universidad Autonoma del Estado de Mexico (UAEM) in Toluca, Mexico.
During the module, participants will present the operational plans they developed through the training. The session will include a graduation ceremony for the 108 attendees from 20 higher education institutions, who will be presented with certificates of completion.
"Our experience with this group in Toluca has been stellar," said Cliff Paredes, International Trade Center director. "Attendees have been working really hard during the last months to absorb the information and be able to graduate. We are looking forward to continue expanding the SBDC model throughout Mexico and the rest of the Americas."
Mexico continues to lead the SBDC expansion in the Americas with 108 SBDC centers operating through the country and with more than a 1,300 staff trained through te customized training.
The International Trade Center at UTSA is the largest and most successful trade assistance organization in Texas. It helps companies become globally competitive through technical trade consulting, customized market research and innovative training programs. The center is a specialty program of the South-West Texas Border SBDC Network.
For more information on the development of SBDCs abroad, visit the SBDC Global website.