UTSA honors students attend national conventions, reflect on impact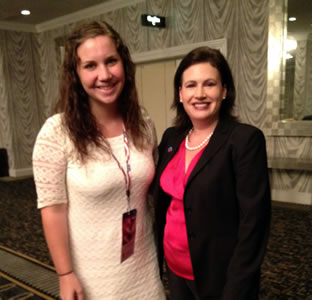 Share this Story
(Sept. 27, 2012) -- Every four years, Democrats and Republicans host national conventions to give Americans a glimpse of two possible futures for the United States. In an effort to improve the economy, education and other social issues, presidential candidates share blueprints aiming to strengthen the nation.
This year, UTSA students Rosalyn Huff, Morgan Barton and Hannah Beck were selected to attend the conventions, an opportunity offered through the Washington Center's Campaign 2012 internship program. The students indicated their interest to the UTSA Honors College by answering a questionnaire and drafting an essay.
With her eyes set on practicing law, Huff is a junior majoring in political science and minoring in African-American studies. Despite wanting to meet President Obama, she opted to attend the Aug. 27-30 Republican National Convention in Florida, believing that Republicans and Democrats can both learn from each other and together can develop the best plan of action for the nation.
"I have observed that most students don't realize as individuals that we can learn a lot from the other party," said Huff. "Out of respect to my country, I wanted to listen, and I wanted to be embedded into the other side. Politics is about making the proper decision collectively with both parties, to help this country. Overall, I just wanted to prove to everyone that Republicans and Democrats can come together without tensions and compromise."
Political science majors Barton, a senior, and Beck, a sophomore, opted to attend the Democratic National Convention in Charlotte, something Barton describes as a 'once-in-a-lifetime opportunity for a college student." The convention was Sept. 3-6.
Barton began her college career at George Washington University in Washington, D.C., where she volunteered at the White House. One day, she hopes to work for the United Nations or State Department in public health.
"I was so excited to attend such a historical event and learn what happens behind the scenes," said Barton. "That's something that you just can't teach in a classroom. So much planning went into this event. I was excited to see how the whole process really occurs."
While in Charlotte, Barton also had the unique opportunity to listen to San Antonio Mayor Julian Castro deliver his keynote address.
Beck's interest in politics was sparked by a 10th grade debate class. She is now president of Young Democrats at UTSA, and she volunteered with U.S. Rep. Lloyd Doggett's campaign this year in Texas. She is pursuing minors in legal studies and business administration.
Beck attended the Democratic National Convention to discover new ways to engage disinterested students in politics. Via a career in law, she aspires to serve as a United States senator.
"At the convention, I was very interested in learning how to combat political apathy in students," said Beck. "I learned so much from the convention about what I needed to do to motivate students to become more involved in local and state politics, so that they can influence the policies and representatives that govern them."
The Washington Center's Campaign 2012 internship program places students in volunteer fieldwork positions with the party, convention committee, host committee, media and many other convention-related organizations and events. Prominent speakers address the participants each morning.
While at the conventions, the three students shared their experiences with their classmates via Skype and with the entire UTSA community via a convention blog.
The trip was funded by the UTSA Honors College and the Carlos and Malu Alvarez Special Opportunities Fund.