Get ready, Roadrunners: UTSA Homecoming 2012 is Oct. 14-20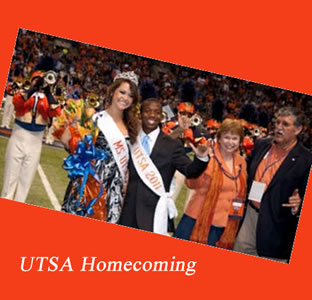 Share this Story
(Sept. 26, 2012) -- Get ready to wear your orange and blue -- Birds up! It's Homecoming Game Week! Mark your calendars for Oct. 14-20, and join the entire UTSA community in celebrating Homecoming 2012. The theme this year is "Believe in UTSA. Be UTSA."
>> For the full slate of events, visit the UTSA Homecoming 20102 Web site.
The UTSA Homecoming website will have continuing updates with important information about the special activities. Major events begin Tuesday, Oct. 16 with "Roadrunners Live," a talent show, lip-synch competition and step show all in one event. Wednesday, Oct. 17 will feature a comedy event at the University Center lawn on the Main Campus. The Homecoming Golf Cart Decorating Party will follow at 8 p.m., Thursday Oct. 18 at the University Center lawn.
On Friday, Oct. 19, make plans to attend the Golf Cart Parade and Rowdy Rampage Fireworks Spectacular. The night event combines a spirit rally, concert, fireworks show and the Homecoming Golf Cart Parade -- all in one at the UTSA track adjacent to the Recreation and Wellness Center, Main Campus. There will be music by Suite 709 from Austin, to start the evening and after the fireworks.
The Saturday, Oct. 20 events will begin with Game Day festivities at 8 a.m. at the Alamodome and Historic Sunset Station, which is renamed Roadrunner Station during UTSA home football games. There will be family friendly activities, tailgating and giveaways before kick-off. The homecoming game will be against San Jose State.
Stop by either of the Roadrunner Express stores on the Main Campus or Downtown Campus to buy a commemorative UTSA Homecoming 2012 t-shirt -- and get ready to support the Roadrunners!
For more information, call 210-458-4160.