UTSA to present Sept. 28 lecture by Nobel laureate John Mather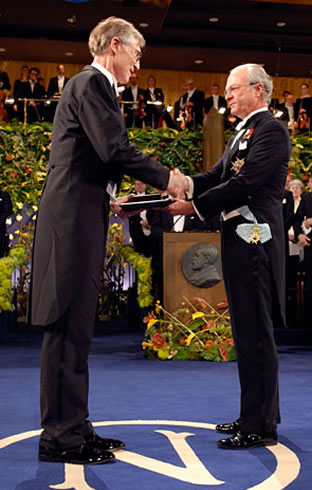 Share this Story
(Sept. 26, 2012) -- The UTSA faculty astronomers invite the community to attend "Friday Nights, Celestial Lights," featuring a talk by John Mather, Nobel laureate and senior astrophysicist at the NASA Goddard Space Flight Center (GSFC) in Greenbelt, Md. Free and open to the public, the family-friendly astronomy event is 7:30 p.m., Friday, Sept. 28 in the Main Building Auditorium (0.104) on the UTSA Main Campus.
Mather's lecture, "History of the Universe from Beginning to End," will tell the story how the universe began with the Big Bang and how it could have produced an Earth where human beings live and are now discovering their history.
Following the presentation, weather permitting, attendees will have the opportunity to view the night sky using UTSA's telescopes including a 15-inch telescope and several eight-inch Cassegrain telescopes. Night viewing will be from the fourth-floor patio of the Science Building, which is wheelchair accessible.
Mather specializes in infrared astronomy and cosmology and is the senior project scientist for the James Webb Space Telescope, which followed the famed Hubble Space Telescope.
In 2008, he received the Nobel Prize for his research as project scientist for the team that worked on the NASA Cosmic Background Explorer (COBE) satellite. The satellite measured the color spectrum of the heat radiation from the Big Bang, discovered hot and cold spots in the radiation and hunted for the first objects that formed after the great explosion.
Mather's lecture is sponsored by the UTSA Department of Physics and Astronomy and Southwest Research Institute.
The monthly "Friday Nights, Celestial Lights" lecture and viewings began in 2009 as a celebration of the International Year of Astronomy, commemorating the 400th anniversary of Galileo Galilei using a telescope to observe the heavens.
For more information, contact Eric Schlegel, UTSA Vaughan Family Professor, at 210-458-6425 or Mark Jurena, UTSA astronomy lecturer, at 210-458-4922.