UTSA designated military-friendly school by G.I. Jobs magazine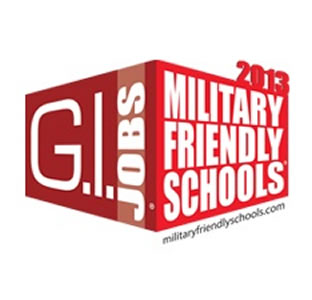 Share this Story
(Sept. 24, 2012) -- For the third consecutive year, The University of Texas at San Antonio was named a military-friendly school by G.I. Jobs magazine. The 2013 Military Friendly Schools list honors the top 15 percent of colleges, universities and trade schools that are doing the most to embrace America's military service members and veterans as students.
The 1,739 colleges, universities and trade schools on this year's list prioritize the recruitment of students with military experience. These schools are making the grade by offering scholarships and discounts, veterans clubs, full-time staff, military credit and other services to those who served.
"Once UTSA realized that its rapidly growing veteran population had different needs than veterans from prior eras, it responded by transitioning its already-established Veterans Task Force consisting of staff and faculty from every university entity to a smaller university standing committee called the Veterans Services Advisory Committee (VSAC) with six focus area sub-committees," said William Dawson, veteran and president of the UTSA Student Veterans Association.
"This transition gave the university administration the ability to more rapidly and dynamically address issues associated with the growing veteran population and their unique needs," he added. "Because of the composition of the VSAC and its much more focused mission, a lot of bureaucracy was eliminated when trying to solve most student veteran's problems."
Student veterans like Dawson have numerous resources available at UTSA such as counseling services, tutoring, life-skills assistance, first-class ROTC programs, a career center that actively assists student veterans, federal job fairs, student veterans networking opportunities (VETNET), veterans/military recognition events, financial assistance, a large population of faculty and staff that readily identify themselves as veterans (or supporters), who are willing to assist student veterans.
The 2013 Military Friendly Schools were compiled through extensive research and a data-driven survey of more than 12,000 schools nationwide. Methodology, criteria and weighting for the list were developed with the assistance of an academic advisory board consisting of educators from schools across the country.
In its effort to help student veterans find the right school, G.I. Jobs incorporated a survey of student veterans for the first time. This feedback provides prospective military students with insight into the student veteran experience at a particular institution based on peer reviews from current students. View student veteran survey feedback at the Military Friendly Schools website.
"The Military Friendly Schools list is a great resource for prospective student veterans searching for schools that provide the right overall experience," Dawson said.
For the complete list of military-friendly schools, visit the G.I. Jobs website.