UTSA Institute for Law and Public Affairs prepares students for law school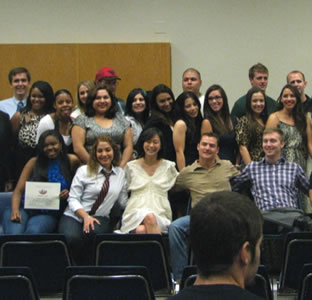 Share this Story
(Sept. 24, 2012) -- At its annual awards ceremony, the UTSA Institute for Law and Public Affairs (ILPA) recognized the 60 students who completed the Summer Law School Preparation Academy (SLSPA) and earned ILPA's Certificate in Legal Reasoning.
Xavier Rodriguez, U.S. judge for the Western District of Texas, was the keynote speaker for the event. Rodriguez encouraged students to keep studying, stay focused on their futures and know that their hard work now will pay off in the future, because the legal profession is always in need of sharp minds. He also emphasized the significance of technology in the evolution of the legal field, which will help students be at the forefront of the profession.
ILPA Director Lisa Buentello, who presided at the ceremony, encouraged students to stay connected to the ILPA and to take advantage of the pre-law advising services available as they apply to law schools. Speakers included SLSPA faculty members Diane Abdo, John Shields and Mel Laracey, who congratulated the SLSPA Class of 2012.
SLSPA student Celina I. Guerra received the Ray Coleman Jr. Award for the most outstanding academic performance in the first and second phase of the academy. The institute also recognized students Chelsea Clemmons and Adriana N. Hernandez for their dedication, hard work, contributions and outstanding academic performance.
The SLSPS offers coursework to increase the number of students gaining admission to and excelling in law school, emphasizing analytical thinking, critical reading and quality writing. Since its creation, institute students have been accepted to more than 150 law schools and enrolled in law schools as diverse as Harvard, University of California- Berkeley, Chicago, Columbia, NYU, Michigan, Minnesota, Georgetown, Cornell, Virginia and University of Texas at Austin. Institute students have gained admission to all nine law schools in Texas.
The Institute for Law and Public Affairs supports UTSA students interested in pursuing careers in law through advising, special events and the SLSPA. Institute staff will assist UTSA students from all academic disciplines in the law school application process, whether they need assistance with LSAT preparation, resumes, personal statements or letters of recommendation, or providing appropriate information concerning legal education and the legal profession.
For more information on SLSPA or prelaw advising, visit the ILPA website, call 210-458-2990 or email ilpa@utsa.edu.