UTSA academy nurtures development of women leaders through workshops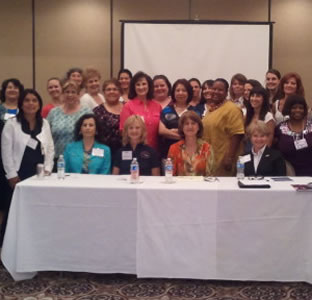 Share this Story
Ryan Schoensee
Special Projects Writer
(Sept. 24, 2012) -- The University of Texas at San Antonio recently hosted the Women's Professional Advancement and Synergy Academy, a series of workshops aimed at developing women leaders at UTSA.
Suggested by Raquel Marquez, professor and chair of the Department of Sociology, and Rhonda Gonzales, associate professor in the Department of History, participants included 20 UTSA female faculty and staff members who were handpicked from across the university to meet with a leadership team to discuss concerns of today's women leaders. Marquez and Gonzales, who both participated in Leadership UTSA, came up with the proposal for the women's academy.
Other members of the leadership team included Gage Paine (former vice president for student affairs), Marcheta Evans (associate dean, College of Education and Human Development), Marietta de la Rosa (associate director of housing and residence life) and Ann Eisenberg (associate dean of the Honors College)
Led by keynote speaker Joycelyn Moody, the Sue E. Denman Distinguished Chair in American Literature and director of the UTSA African American Literatures and Cultures Institute, the Synergy Academy offered seminars such as leadership style and personality; leadership and problem solving; finding balance in career and other areas of life; multiple identities, roles and cultures; securing your seat at the table and setting future career goals.
"The Women's Professional Advancement and Synergy Academy was designed to empower and inspire a cross-section of women working in higher education who aspire and commit to leadership as a central component within their careers," said Marquez. "Striving to develop strong women leaders here at UTSA, the academy has equipped the participants with the necessary tools to do so."
The UTSA Women's Synergy Academy empowers and inspires a cross-section of women working in higher education to develop themselves into successful leaders in their careers. The academy offered keynote lectures, discussion groups and workshops centered on developing skills in career advancement by identifying and building upon the participants' skills and experiences, by establishing a channel of relationships through collaboration and networking opportunities, and by introducing new university leadership areas.
The UTSA Women's Professional Advancement and Synergy Academy was supported by all of the UTSA vice presidents' offices.
For more information, visit the Student Affairs website or contact Ann Eisenberg at 210-458-4106.