UTSA student Torrie Jackson honored by sorority at national conference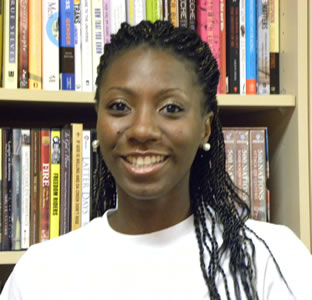 Share this Story
(Sept. 21, 2012) -- UTSA student Torrie Jackson was named an undergraduate member-at-large of the Alpha Kappa Alpha Sorority Inc. at the group's National Boule Conference in San Francisco. Jackson hosted sessions at the conference to elect new officers and organize efforts for the sorority's worldwide initiatives. With the theme "Gateway to Global Leadership Through Timeless Service," members attended workshops and shared ideas in the spirit of their 104-year-old organization.
For the next two years, Jackson will serve on the international directorate of Alpha Kappa Alpha as one of two undergraduate members-at-large. Additionally, she will serve on the International Undergraduate Activities Committee to help develop, coordinate and promote programs among undergraduate chapters, and present workshops at regional and international conferences and other events.
A senior psychology major from Houston, Jackson is president of the Omicron Tau chapter of Alpha Kappa Alpha. Additionally, she is the VOICES vice president of membership, vice president of NPHC, a resident assistant, a member of the UTSA Honors College and a McNair Scholar. She has completed more than 150 community service hours with VOICES. She plans to graduate in May 2013 and will pursue a graduate degree in higher education administration.
The Omicron Tau chapter at UTSA works to support high academic achievement, ethical standards and civic responsibility through nonprofit events and programs throughout Greater San Antonio including San Antonio Food Bank volunteering, money and credit management programs, health awareness programs and the Mr. Pink and Green Scholarship Pageant. The group will assist with a voter registration drive Sept. 17-21 at the UTSA Main Campus.
Alpha Kappa Alpha has provided service for more than a century with a membership of more than 260,000 women in the United States, the Caribbean, Canada, Germany, Korea, Japan and Africa. Since its founding at Howard University in 1908, the sorority has initiated and sponsored civil rights, education, economic empowerment and health programs to better the world.
For more information, contact Torrie Jackson, UTSA chapter president; Pilar Evans, chapter publicity officer; or Donna Millhouse, graduate adviser.