UTSA student organizations host annual BestFest fundraiser Oct. 26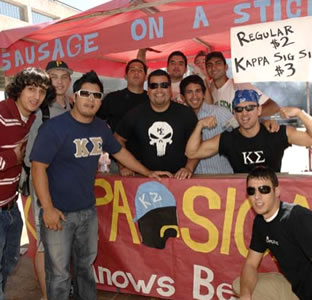 Share this Story
(Oct. 26, 2012) -- The UTSA Campus Activities Board will host the 34th annual student organization fall fund-raising festival, BestFest, from 11 a.m. to 3 p.m., Friday, Oct. 26 at Sombrilla Plaza on the Main Campus. The UTSA community is invited to the student organization fundraiser featuring food, music games and entertainment.
The event will proceed in spite of the rain, but participants should be aware that it may be wet and cool at the event site. If there is lightning, booths not under the Sombrilla will take cover or shut down.
BestFest is one of the largest fundraisers for UTSA student organizations. With more than 70 organizations participating, each group will have a booth selling games or food and drink items.
For more information, contact the Campus Activities Board at 210-458-4772.
------------------------------
About BestFest
BestFest, an annual UTSA celebration, began in 1978 as "a special salute to five of the state's outstanding festivals" including New Braunfels' Wurstfest, Corpus Christi's Buccaneer Days, San Antonio's Fiesta, Dallas' Texas State Fair and Laredo's George Washington's Birthday Celebration. It was presented by the student organization Variety 79.
In the late 1970s, BestFest included performances by the UTSA Brass Ensemble and UTSA Jazz Ensemble, several contests such as the jalapeño eating contest, egg toss, Walking the Plank contest, Pee Wee Bicycle Races and others. The modern BestFest incorporates a Halloween theme with costume and booth-decorating contests. In 2010, BestFest was one of the three finalists for Outstanding Tradition by the National Association for Campus Activities.