UTSA Concert Choir and Chamber Singers present international music concert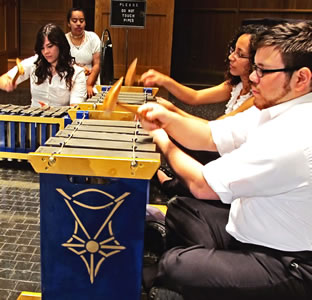 Share this Story
By Kris Rodriguez
Public Affairs Specialist
(Oct. 24, 2012) -- The UTSA Department of Music Concert Choir and Chamber Singers will present an international music concert, "Looking Eastward," at 3 p.m., Sunday, Oct. 28 at Christ Episcopal Church. Free and open to the public, the concert will feature music from countries including Hungary, Slovakia, Estonia, Lithuania, China and Indonesia.
Program selections will include "Agnus Dei" and "Four Slovak Folksongs" by Hungarian composers Zoltan Kodaly and Bela Bartok, two 20th century pioneers who championed folk music for their country. Next will be sacred music by Estonia's leading composer Arvo Part and a piece by Lithuanian composer Vaclavos Augustinas that features four percussionists and four wind players.
The evening's final offerings are the Chinese folk song "The Jasmine Flower," Mongolian folk song :Magnificent Horses" and a celebratory song from southeastern Java and the world premiere of the UTSA Gamelan Ensemble featuring a combination of musical instruments found throughout Indonesia.
The UTSA Concert Choir and Chamber Singers are directed by UTSA Professor John Silantien. UTSA Assistant Professor Mark Brill directs the UTSA Gamelan Ensemble.
For more information, contact John Silantien at 210-458-5328. Christ Episcopal Church is at 510 Belknap Place, San Antonio, Texas, 78212.