Early voting at UTSA for November general election runs Oct. 22-Nov. 2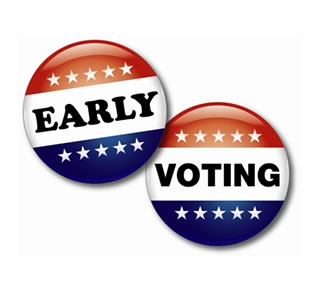 Share this Story
(Oct. 19, 2012) -- All Bexar County voters can early-vote at UTSA and other early-voting sites across the county from Oct. 22 to Nov. 2. Vote at UTSA in the University Center Bexar Room (1.101) on the Main Campus. Voting dates and times for all Bexar County early-voting sites are:
Oct. 22-26, 8 a.m.-6 p.m.
Oct. 27, 8 a.m.-8 p.m.
Oct. 28, noon-6 p.m.
Oct. 29-Nov. 2, 8 a.m.-8 p.m.
Visit the Bexar County Elections Department website to download a complete list and map of early voting sites, frequently asked questions about voting and sample ballots. The general election is Nov. 6.
Voters must bring to the voting site a voter registration certificate or other form of identification. According to the Texas Secretary of State website, acceptable other forms of identification include:
Driver's license or personal identification card issued by the Texas Department of Public Safety (or similar document issued by an agency of another state, even if the license or card has expired);
Form of identification that contains photograph and establishes voter's identity;
Birth certificate or other document confirming birth that is admissible in a court of law and establishes the person's identity;
U.S. citizenship papers;
U.S. passport;
Official mail addressed to voter by governmental entity; or
Copy of a current utility bill, bank statement, government check, paycheck or other government document that shows voter's name and address.
For more information, visit the Vote Texas website.