Extreme Makeover UTSA Edition: Students help beautify the university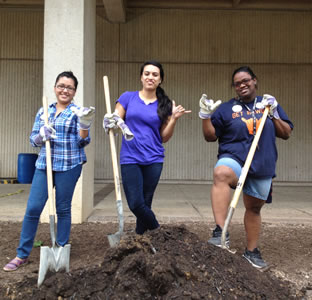 Share this Story
(Oct. 9, 2012) -- One hundred eighty-five UTSA students and 20 student organizations participated Sept. 28 in a range of collaborative projects to beautify the UTSA Main Campus.
Called "Extreme Makeover: UTSA Edition," the projects included placing brick edging around flower beds and planting shrubs and greenery around the Convocation Center, spreading mulch around trees and flower beds at the Laurel Village residence facility, painting doors and rails at the Convocation Center and picking up trash across the campus.
The event was coordinated by the UTSA student organization VOICES (Volunteer Organization Involving Community, Education and Service) with collaboration from the UTSA grounds, facilities and housing departments. Facilities and grounds staff members worked hard to plan projects for the students that would be noticed by the UTSA community.
"'Extreme Makeover: UTSA Edition' was a great opportunity to give back to UTSA and interact with my fellow Roadrunners to enhance our campus," said student Edward Castillo, service chair for the Omega Delta Phi Fraternity Inc. "It was a great experience, and I look forward to participating in this VOICES event again next year."
The planning team included student Nicci Campbell, advisers Cristina Dominguez and Leslianne Garcia, and facilities staff members Della Reyes, Frederick Wiedner, Ray Rios and Roger Kissam. Several other staff members and student leaders helped lead projects.
For more information on service activities, visit the VOICES or Inclusion and Community Engagement websites, go to the VOICES office in University Center Room 1.216 on the Main Campus, email volunteer@utsa.edu or call 210-458-7291.