UTSA honors students raise awareness about food issues during Food Week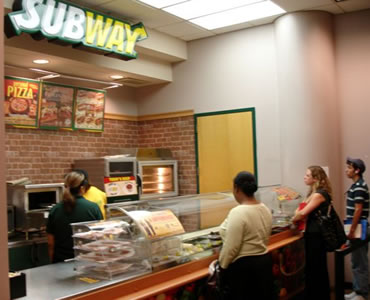 Share this Story
By Katy Almond
UTSA Honors College
(Oct. 24, 2012) -- We are all surrounded by food choices. Every day we have to make a decision of what to eat. But, how often does anyone think about what is in the food we eat?
UTSA professor Kolleen Guy's honors seminar class "Hunger and Abundance" is raising awareness on food issues by hosting campus events for Food Week (Monday, Oct. 22–Friday, Oct. 26).
"The purpose of Food Week is to raise awareness about better personal eating habits, specifically for students," said Hayley Diamond, organizer of campus outreach for the event. Students can take the knowledge from this course and apply it by teaching other students about sustainable food options.
Events on campus include cooking demonstrations. "Guys in the Kitchen" is the set for Friday, Oct. 26.
"To me, cooking is a therapeutic recipe for better living," said Shane Jones, a student from Guy's class. Jones, Randall Kirk and Jon Pillow will conduct the cooking demonstration. Additionally, Master Chef Ron Smith will do a cooking demonstration Wednesday called "Vegetarian Cuisine for Non-Vegetarians."
Other events include a pledge contest, where students can pledge themselves to a healthier lifestyle -- and win prizes!-- and "Weigh the Waste" in the Roadrunner Café to give a visual representation of food waste on campuses.
For more information on Food Week and the events, visit Facebook.com/HungerAndAbudance.