Justin Constantino receives UTSA Outstanding Latino Student Leadership Award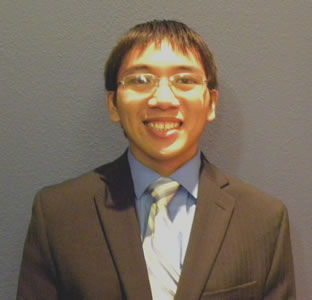 Share this Story
By Ann Margaret Trujillo
Associate Director, Inclusion and Community Engagement Center
(Oct. 29, 2012) -- The UTSA Inclusion and Community Engagement Center announces Justin Constantino is the 2012 recipient of the Outstanding Latino/Latina Student Leadership Award. He was nominated by Jessica Avalos-Alvarez, program coordinator in the UTSA Learning Communities.
Constantino is involved on campus in a number of student organizations including Society of Women Engineers, College of Engineering Ambassadors, American Society of Mechanical Engineers and Engineers Without Borders. He serves the community each week devoting many hours to various organizations, along with working on campus as a physics supplemental instructor and as webmaster in the Tomas Rivera Center for Student Success, and off-campus in a weekend job.
In the nomination, Constantino was described as a person who "epitomizes leadership by his ability to focus on other people's needs, while balancing his own… He is the definition of a servant leader. He sacrifices so much of his time to mentor and serve others and is the ideal portrait of how a student can achieve great academic success, while getting involved on campus."
In the third year the award has been presented, 18 students were nominated. The other finalists were Cecilia Alvarado and Diana Cuervo.
Award recipients must have a minimum cumulative G.P.A. of 2.75, must be a junior or senior with at least 60 credit hours earned at UTSA, must have campus leadership involvement and must have given service to the community. The nomination must include an essay describing how the nominee epitomizes leadership, how the nominee has demonstrated leadership skills at UTSA, and how cultural and personal values influenced the nominee's leadership abilities.
The award is presented at the Gala Latina, an event that culminates the celebration of Latino Heritage Month, and includes a banquet with a keynote speaker, the award presentation and a dance. Past speakers include Marco Cervantes, UTSA assistant professor of bicultural-bilingual studies, and Carmen Tafolla, UTSA senior lecturer of bicultural-bilingual studies and San Antonio's first Poet Laureate, among others. This year's keynote speaker was Larissa Mercado-López, UTSA lecturer in sociology and the Women's Studies Institute.