Leadership UTSA fourth cohort announced, 2011-2012 class recognized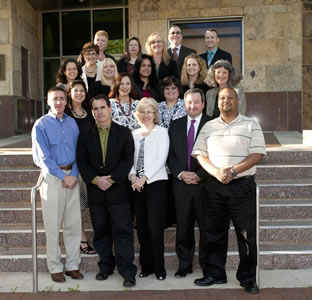 Share this Story
(Oct. 24, 2012) -- Last month, members of the 2012-2013 class of Leadership UTSA met to begin an intensive eight-month leadership course that will help them develop the skills they need to advance their careers.
Faculty selected to participate in the leadership development program for the 2012-2013 year include Janis Bush (Environmental Science), Yilmaz Hatipkarasulu (Architecture), Christopher Reddick (Public Policy), Viviana Rojas (Communication), Misty Sailors (Interdisciplinary Learning and Teaching), Can Saygin (Mechanical Engineering), Johnelle Sparks (Demography) and Wan Yao (Health and Kinesiology).
Staff participants include Julie Gohlke (Purchasing and Distribution Services), Lisa Marie Gomez (College of Business International Student Services), Sabina Kapoor (Tomás Rivera Center), Joseph Kulhanek (P-20 Initiatives), Nikki Lee (University Center), Genevieve Lopez (Development), Mark Munguia (Campus Recreation), Kathryn Pearson (Facilities), Nina Sosa (Equal Opportunity Services), Mickey Stevenson (Research Integrity and Compliance), Jamie Trevino (Admissions) and Christopher Valles (Fiscal Services).
The program was developed in 2009 by John Frederick, provost and vice president for academic affairs, and Gage Paine, former vice president for student affairs, with the assistance of Julius Gribou, executive vice provost and senior international officer, Mansour El-Kikhia, professor and chair of the Department of Political Science and Geography, and Barbara Millis, director of the Teaching and Learning Center. It was inspired by a UT System leadership development program.
The yearlong program aims to help faculty and staff develop leadership skills and institutional perspectives that will position them to pursue leadership positions in academia. Participants are nominated for the program by their respective vice presidential areas.
During Leadership UTSA, participants reflect on leadership texts, gain a broader understanding of the qualities of successful leadership, reflect on their own leadership skills and learn more about each of UTSA's six vice presidential areas. Additionally, each participant is mentored by a UTSA administrator during the spring semester.
The program has proven to be valuable for participants. One was promoted to dean, a few have become department chairs and directors, and one was awarded an ACE fellowship.
"We are excited about starting our fourth year of Leadership UTSA with a great set of participants," said Frederick. "The program gives them a more intimate knowledge of how the university operates, as well as a big picture view of their unique role at UTSA. Additionally, past participants really have enjoyed the camaraderie of Leadership UTSA and having the opportunity to form connections with others across campus."
On April 13, the 2011-2012 Leadership UTSA cohort graduated. Four graduates from the cohort, Kim Kline (Communication), Rhonda Gonzales (History), Donna Edmondson (Research) and Maggie Floyd (Tomás Rivera Center) are serving now on the leadership team to help with the program's 2012-2013 planning.
"In many ways, my eight months in Leadership UTSA were a sort of awakening," Floyd recalls. "While participating in Leadership UTSA, I gained new knowledge, built confidence and gained a better understanding of each area of the university, which opened up an exciting array of new possibilities to be a better leader in the UTSA community."
The 2012-2013 Leadership UTSA cohort will meet monthly from September 2012 to April 2013. Topics on the agenda will include strategic planning, decision making, and change and resource management, among others. Also this year, graduates of the program will be invited to participate in Leadership UTSA Year Two, an optional brown-bag lunch series.
------------------------------
>> Read articles by UTSA employees in the National Council of University Research Administrators (NCURA) magazine. Articles are reprinted with permission from NCURA magazine and the National Council of University Research Administrators.