UTSA Neurosciences Institute hosts Nov. 12 lecture by renowned neurophysiologist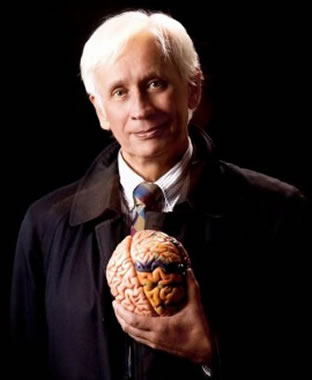 Share this Story
By Ryan Schoensee
Special Projects Writer, Office of University Communications
(Oct 3, 2012) -- The UTSA Neurosciences Institute and Mind Science Foundation will present neurophysiologist Rodolfo Llinás, M.D., speaking on "On the Objectivization of Subjectivity" at 5:30 p.m., Monday, Nov. 12 in the Main Building Auditorium (0.106) on the UTSA Main Campus. A 5 p.m. reception will precede the lecture; both events are free and open to the public. The talk is part of the UTSA Neurosciences Institute Distinguished Public Lecture Series.
Llinás is the Thomas and Suzanne Murphy Professor of Neuroscience in the NYU School of Medicine Department of Physiology and Neuroscience. He studies the inner workings of the human brain, particularly the cerebellum, and how the brain evolved from a mindless state into the organism of thought that exists today. His influential body of work traverses multiple scales and disciplines in the neurosciences from calcium inhibition at neuronal dendrites to whole brain magnetoencephalography.
A critical issue for scientists today is how neuroscience relates to the physical nature of subjectivity. Some scholars insist that subjectivity is unquantifiable in the mind and cannot be analyzed from a scientific perspective. Llinás challenges this notion and will offer evidence that a subjective experience can indeed be measured in an objective and quantifiable manner.
Born in Bogota, Colombia, in 1934, Llinás received his M.D. degree in 1959 from Javeriana University and earned a Ph.D. degree in 1965 from the Australian National University. He is a member of the National Academy of Sciences, American Academy of Arts and Sciences and American Philosophical Society. He served as editor-in-chief of Neuroscience for more than 20 years. He holds seven honorary doctorates from universities around the world and is the recipient of numerous international awards and distinctions including the Luigi Galvani Award and the UNESCO Albert Einstein Gold Medal Award in Science. He is author of numerous pioneering and influential theories.
Each year, the UTSA Neurosciences Institute's Distinguished Public Lecture Series brings an internationally recognized neuroscientist to UTSA to engage and educate a wide and varied audience from across the San Antonio region to discuss current research findings on neuroscience topics that offer a fundamental understanding of the human experience.
Previous lecturers in the series were birdsong neuroscientist Erich D. Jarvis, Caltech consciousness researcher Christof Koch and Huntington's disease pioneer and advocate Nancy Wexler.
The UTSA Neurosciences Institute is a multidisciplinary research organization for integrated brain studies, drawing primarily on the faculty expertise of the UTSA College of Sciences Department of Biology. The institute fosters a collaborative community of scientists committed to studying the biological basis of human experience and behavior, and the origin and treatment of nervous system diseases.
Its areas of focus include nervous system development; neuronal and network computation; sensory, motor and cognitive function; learning and memory and the disease processes that impact them; implementing mathematical and computational tools in experimental neurobiology; and mathematical theory of neurons and nervous systems.