UTSA minority business agency honors minority-owned Texas businesses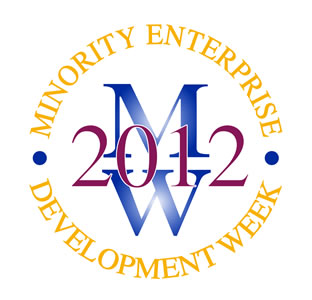 Share this Story
(Oct. 16, 2012) -- The UTSA Institute for Economic Development and the Minority Business Development Agency (MBDA) will celebrate the 30th anniversary of Minority Enterprise Development (MED) Week, Oct. 15-18, at the Marriott Northwest in San Antonio. MED Week recognizes minority businesses throughout the Central and South Texas region.
The 30th anniversary celebration, themed "Job Creation in America: Build it Here, Sell it Everywhere," began with a kick-off mixer Oct. 15. A luncheon will be 11 a.m., Thursday, Oct. 18 and includes an 11-11:30 a.m. networking session. Awards will be presented by MED Week emcee Eileen Teves from KENS-TV's "Great Day SA," and Orestes Hubbard, director of the UTSA MBDA Business Center. The luncheon is open to the public with $50 registration.
MED Week will honor winners past and present for their contributions to the business community. This year, 14 honorees were selected including two 30th Anniversary Special Awards that will be presented to an individual and a company that have significantly contributed to small business growth and job creation.
For more information, visit the MED Week website.
-------------------------------
MBDA MED Week Award Winners
Minority Construction Firm of the Year: Sabinal Group
Minority Service Firm of the Year: Sistema Technologies
Minority Contractor of the Year: VESA Health and Technology
Minority Global Firm of the Year: SANA International
Minority Advocate of the Year: CPS Energy, Tracy Burns
Distinguished Supplier Diversity Award: Toyota Motor Manufacturing Texas Inc., Access to Capital, Chase Bank
Minority Job Innovator of the Year: HERO Assemblers, Ray Romero
Minority Federal Procurement Advocate of the Year: American Hospital Services Group
Minority Workforce Development Champion: St. Philip's College: Dr. Adena W. Loston
30th Anniversary Special Award (Individual): Arthur Jean Dinwiddie, 802nd Contracting Squadron, U.S. Air Force
30th Anniversary Special Award (Company): H-E-B
8(a) Minority Small Business Person of the Year: Adrian E. Garcia, president of FARR Builders LLC
8(a) Graduate of the Year: Christopher Kimm, CEO of WestEast Design Group
--------------------
The MBDA Business Centers are staffed by business specialists who help high-growth minority businesses access markets and capital. The centers are funded by the Minority Business Development Agency (MBDA), an agency in the U.S. Department of Commerce. MBCs promote minority business communities' growth and global competitiveness, making them better equipped to create and retain jobs, impact local economies and compete successfully in domestic and global marketplaces.
With a nationwide network of more than 40 MBCs and strategic partners, the centers assist minority entrepreneurs and business owners with consulting services, contract and financing opportunities, bonding and certification services, building business-to-business alliances, global/teaming/joint venture opportunities and executive training.