UTSA hosts team from national group for research administration training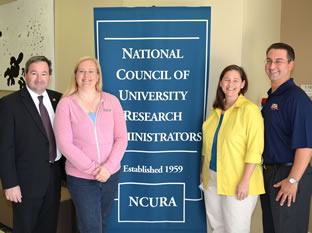 Share this Story
By Christi Fish
Associate Director of Media Relations
(Oct. 24, 2012) -- Experienced professionals from the National Council of University Research Administrators (NCURA) visited UTSA recently to deliver two-and-a-half days of intensive professional development training to UTSA research administration staff members. More than 50 staff attended the training including personnel who are staffing UTSA's six research service centers. The research service centers have been operational since Sept. 1.
The NCURA workshop opened with a discussion of the roles and responsibilities of research administrators. Throughout the workshop, NCURA faculty provided a forum to promote discussions about a variety of issues that research administrators commonly face. Instructional topics included federal regulations, proposal preparation, award review, negotiation and management of awards, post-award obstacles, compliance, and closeout and audit issues.
"NCURA is the leading international professional organization for university research administrators," said James Casey, UTSA assistant vice president for sponsored project administration. "The training NCURA delivered will most certainly ensure a seamless transition to our new organizational structure."
The UTSA Office of the Vice President for Research is restructuring to provide a superior level of faculty and staff service in grants management and become more productive and efficient with its resources. In addition to new staff positions such as a research ombudsman and a research concierge, the six research service centers on the Main and Downtown Campuses provide scholars with seamless sponsored project administration including grant opportunity identification, proposal preparation and submission, grant award processing and management, and grant close-out procedures.
"The research service centers are a critical component in the development of UTSA as a Tier One institution," said Casey. "Bringing NCURA to campus for the workshop reflects our belief that professional development of the research service center staff is central to highly effective faculty and staff support."