Part of UTSA Homecoming Week: Volunteer for Roadrunners Give Back project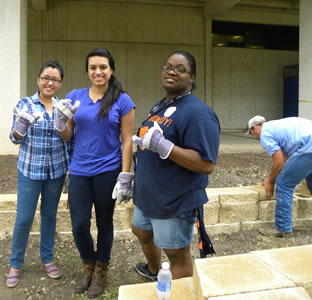 Share this Story
(Oct. 15, 2012) --As part of UTSA Homecoming 2012, Oct. 14-20, students and alumni are invited to volunteer for the second annual Roadrunners Give Back, the official UTSA Homecoming service project. The event is a chance for UTSA students and alumni to come together in the spirit of community service. Last year 35 students, staff and alumni volunteered at the San Antonio Food Bank and sorted 13,500 pounds of donated food.
No experience is necessary to participate. Family members also may participate. Those who are ages 8-17 must have signed permission from a parent.
This year, volunteers will work with Green Spaces Alliance of South Texas, a community agency dedicated to sustaining our natural environment and enhancing urban spaces through land conservation, community engagement and education. The activities may include garden bed construction and filling with soil, work on the water catchment pavilion, and general garden maintenance.
The project is coordinated by the UTSA Inclusion and Community Engagement Center.
For more information visit the UTSA Homecoming website. To participate, email volunteer@utsa.edu with your name, age, contact information and whether you are a current UTSA student or alumni.