UTSA Satellite Space presents photo, video and installation exhibits Nov. 1-18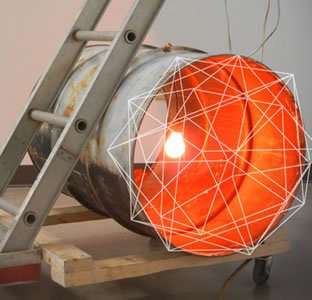 Share this Story
By Tim Brownlee
Associate Director of Internal Communications
(Oct. 31, 2012) -- The UTSA Satellite Space and the UTSA Department of Art and Art History, will present "Repetition and Ritual," an exhibit of photography, video and fabric works by Julie Ledet, and "Life is an Electric Whip," an exhibit of sculpture and installation works by Ivan Salcido. Free and open to the public, the exhibits will run Nov. 1-18.
>> Opening receptions are 6-9 p.m., Thursday, Nov. 1 and First Friday, Nov. 2.
Ledet's M.F.A. thesis exhibition includes photographs, a photographic installation, a video installation, a performance video and fabric works with narratives that expose the spectrum of emotions, rituals and repetitious behaviors derived from obsessive compulsive tendencies. The work largely represents a self-initiated healing process that resembles the superstitious and sacred rituals experienced in Southern Louisiana culture.
Salcido"s exhibit draws inspiration from architecture, urban construction sites and an array of found objects. The discarded, commonplace objects and industrial materials are transformed into sculptures and installations built on the poetic reality of their original purpose. The balance between scale and mass and the interaction of the thrown-away objects and live, electrical components work together to bring something new to life. Salcido manipulates a space by evoking a precarious equilibrium of objects that are at home in the gallery, a domestic environment or even an alley.
------------------------------
The UTSA Satellite Space is in Blue Star Arts Complex Suite 115, San Antonio, Texas, 78204, at South Alamo and Probandt streets in the Southtown arts district. Gallery hours are noon-6 p.m., Friday-Sunday, or by appointment. For an appointment, contact Clay McClure, gallery coordinator, at 210-212-7146 or 512-558-2676, or the UTSA Department of Art and Art History at 210-458-4391.
The UTSA Satellite Space is the off-campus gallery of the UTSA Department of Art and Art History. Monthly exhibitions feature works by nationally recognized professional artists and UTSA graduate students. Since its first exhibition in 1993, the gallery has become one of San Antonio's most respected venues for challenging contemporary art.