San Antonio Vaccine Development Center presents research symposium Nov. 16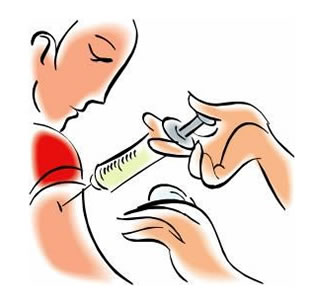 Share this Story
(Oct. 29, 2012) -- The inaugural San Antonio Vaccine Symposium, "Vaccine Antigen Discovery and Vaccine-Induced Immunity," will be 8 a.m. to 5:30 p.m. Friday, Nov. 16 at the University of Texas Health Science Center San Antonio Greehey Children's Cancer Research Institute, 8403 Floyd Curl Drive.
The symposium is presented by the San Antonio Vaccine Development (SAVE) Center, which is marshaling the vaccine research resources of four San Antonio institutions: UT Health Science Center, The University of Texas at San Antonio (UTSA), Texas Biomedical Research Institute and Southwest Research Institute. These partners and BioMed SA, which promotes San Antonio's biomedical assets, announced the SAVE Center founding at a press conference last spring at City Hall.
Two leading vaccine researchers who are members of the National Academy of Sciences will deliver invited keynote speeches. At 9 a.m. Nov. 16, Roy Curtiss II, Ph.D., of the Biodesign Institute at Arizona State University, will discuss "Salmonella-Vectored Vaccines from Infectious Diseases to Cancer." At 2 p.m., Rafi Ahmed, Ph.D., of the Emory Vaccine Center at Emory University, will discuss "T-cell Memory and Exhaustion."
Scientists of the SAVE institutions will present their work in oral sessions that follow the keynote addresses. "It's a very exciting program. These visiting scientists are much acclaimed in their fields -- both are prominent in the field of vaccine discovery," said Bernard Arulanandam, Ph.D., co-scientific director of the symposium, UTSA professor of biology and adjunct professor of microbiology and immunology at the UT Health Science Center.
The other co-scientific directors are Guangming Zhong, M.D., Ph.D., professor of microbiology and immunology in the School of Medicine at the UT Health Science Center; Jean Patterson, Ph.D., scientist and chair of virology and immunology at the Texas Biomedical Research Institute; and Michael MacNaughton, Ph.D., vice president, chemistry and chemical engineering, at Southwest Research Institute.
Curtiss will speak about delivering vaccine antigens through the use of Salmonella vectors (or carriers). Salmonella are microscopic bacteria that represent the most frequently reported cause of food-borne illness. His laboratory is interested in using microbial genetic engineering to address problems of global concern.
Antigens are substances such as bacteria, fungi or pollen that stimulate the immune system to produce antibodies. An antibody is a protein produced by the immune defenses when the harmful antigen is recognized.
Ahmed is an internationally recognized expert on the immune response to viruses. "Dr. Ahmed studies how responses to an antigen are maintained or remembered, which is significant since the purpose of vaccination is to induce immunological memory," said Zhong.
Annually, the SAVE symposium will enable faculty and graduate students to learn about vaccine research from infectious disease researchers around the world, according to Zhong. The students will in turn have a platform to share their research with these global experts.
The oral presentations and dozens of poster presentations will "showcase San Antonio and the vaccine development work at all four SAVE institutions," Arulanandam said. "In our own back yard, we have very promising investigators."
Francisco González-Scarano, M.D., dean of the School of Medicine and vice president for medical affairs at the Health Science Center, said the institution is proud to host the inaugural SAVE symposium. "The development of effective vaccines against infectious diseases such as AIDS, malaria and Lyme disease is key to improving human health as well as that of domesticated and agricultural animals," he said. "The UT Health Science Center, in collaboration with the SAVE partner institutions, will contribute new understandings to alleviate the suffering caused by infectious diseases and other conditions that may be responsive to vaccination."
Kenneth Trevett, J.D., president and chief executive officer of the Texas Biomedical Research Institute, is serving his second term as chair of the executive committee of BioMed SA. "From diabetes to heart disease, from neuroscience to aging, from infectious diseases to mental illnesses, and many others, we are pursuing as a community new diagnostics, novel therapies and more effective vaccine strategies," he said. "The annual symposium we are launching on Nov. 16 epitomizes this quest."
"This symposium and the top-flight research talent it is attracting highlight the strength and vibrancy of San Antonio's biomedical sector," said Mayor Julián Castro.
---------------------------
The University of Texas Health Science Center at San Antonio, one of the country's leading health sciences universities, ranks in the top 3 percent of all institutions worldwide receiving federal funding. Research and other sponsored program activity totaled $231 million in fiscal year 2011. The university's schools of medicine, nursing, dentistry, health professions and graduate biomedical sciences have produced approximately 28,000 graduates. The $736 million operating budget supports eight campuses in San Antonio, Laredo, Harlingen and Edinburg.
The University of Texas at San Antonio is one of the largest of nine academic universities and six health institutions in the UT System. As a multicultural institution, UTSA aims to be a national research university providing access to educational excellence and preparing citizen leaders for the global environment. The university serves nearly 31,000 students in 135 degree programs in the colleges of Architecture, Business, Education and Human Development, Engineering, Honors, Liberal and Fine Arts, Public Policy, Sciences and the Graduate School. Founded in 1969, UTSA is an intellectual and creative resource center and a socioeconomic development catalyst for Texas and beyond.
Southwest Research Institute (SwRI) is an independent, nonprofit, applied engineering and physical sciences research and development organization. The Institute occupies more than 1,200 acres in San Antonio, Texas, and provides more than 2 million square feet of laboratories, test facilities, workshops and offices for more than 3,000 employees who perform contract work for industry and government clients. Annual revenue totaled $581 million for fiscal year 2011. Founded in 1947, SwRI has 11 technical divisions, with a multidisciplinary, integrated approach to solving complex problems in science and applied technology.
The Texas Biomedical Research Institute, formerly the Southwest Foundation for Biomedical Research, is one of the world's leading independent biomedical research institutions dedicated to advancing health worldwide through innovative biomedical research. Located on a 200-acre campus on the northwest side of San Antonio, the institute partners with hundreds of researchers and institutions around the world, targeting advances in the fight against AIDS, hepatitis, malaria, parasitic infections and a host of other infectious diseases, as well as cardiovascular disease, diabetes, obesity, cancer, psychiatric disorders and problems of pregnancy.