UTSA Institute for Economic Development promotes SBDC model in Guatemala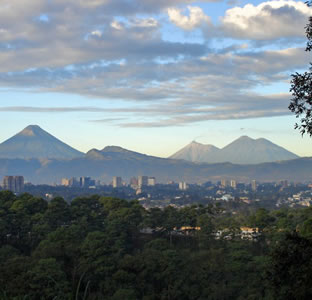 Share this Story
(Oct. 2, 2012) -- Robert McKinley, UTSA associate vice president for economic development, and Minerva Garcia, an international business consultant at the UTSA International Trade Center, met Sept. 5 in Guatemala City, Guatemala, with officials in the Guatemalan government, higher education and non-governmental organization sectors, and business leaders. The purpose was to discuss the benefits of developing a Small Business Development Center (SBDC) network in Guatemala modeled after the network in the United States.
Since 2003, the UTSA Institute for Economic Development and the International Trade Center have helped countries develop SBDC networks with support from the U.S. Department of State. UTSA began by working with Mexico to develop what has become a network of more than 100 centers.
The meeting in Guatemala followed a dialogue between UTSA, CENPROMYPE (Centro Regional de Promoción de la MIPYME) and the government of Guatemala to begin a training program in the country to help professionals develop and run SBDCs.
"We met with Guatemalan stakeholders to conduct an SBDC feasibility survey and focus group. This helped us determine the best way forward," said Cliff Paredes, director of the International Trade Center. "The conversations leading up to the meeting were very positive, and we are looking forward to the potential of adding Guatemala to the list of countries with SBDC networks."
Attendees at the consultation included Sigfrido Lee, vice minister of economy for Guatemala, and a representative from the El Salvadoran SBDC association CONAMYPE (Comisión Nacional de la Micro y Pequeña Empresa, El Salvador). Lee was there to discuss how he completed the training and developed a network of SBDCs to assist small and medium-sized businesses.
For more information on the development of SBDCs abroad, visit the SBDC Global website.
-------------------------------------
About the International Trade Center
The International Trade Center at UTSA is one of the largest and most successful trade assistance organizations in Texas. It helps companies become globally competitive through technical trade consulting, customized market research and innovative training programs. The center is a specialty SBDC program in the South-West Texas Border SBDC Network. Follow us on Twitter (@TexasTrade) and like us on Facebook.