UTSA infectious disease center awards $21,500 scholarships to two students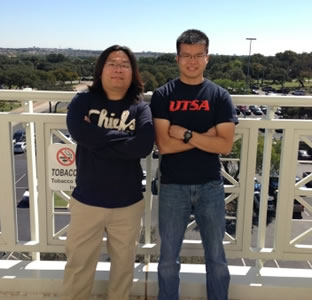 Share this Story
By Ryan Schoensee
Special Projects Writer, Office of University Communications
(Oct. 22, 2012) -- The South Texas Center for Emerging Infectious Diseases (STCEID) at The University of Texas at San Antonio (UTSA) has awarded its $21,500 STCEID doctoral scholarships to Ying-Han Lin and Jesse Nguyen in the College of Sciences Department of Biology. Lin and Nguyen will use the STCEID scholarships to focus on their doctoral research.
Under the guidance of Janakiram Seshu, UTSA associate professor of bacterial pathogenesis, Lin is researching Lyme disease. He is specifically interested in understanding the nutrients that affect the regulatory systems of Borrelia burgdorferi, the bacterium that causes Lyme disease, and hopes to pinpoint the mechanism that causes B. burgdorferi to adapt to its human and animal hosts. Ultimately, his research will help scholars develop a vaccine to prevent the onset and spread of Lyme disease, which is re-emerging in the United States.
"This scholarship will not only provide me with the unique opportunity to achieve my long-term career goal of excelling in academic research, but it also will help further my understanding of molecular mechanisms of gene regulation," said Lin. "The assistance provided by the STCEID scholarship will allow me to engage in and develop novel concepts utilizing cutting-edge methodologies."
Under the direction of Karl E. Klose, UTSA professor of microbiology, Nguyen is studying Francisella tularensis, the bacterium that causes the disease tularemia. His doctoral research focuses on a cluster of genes known as the Francisella pathogenicity island. Francisella tularensis is labeled as a Category A biothreat agent by the U.S. government because of its potential threat to public health and safety. The Francisella pathogenicity island is required for F. tularensis to cause disease. Studying this cluster of genes will allow Nguyen to gain insight in its mechanisms of virulence and lead the way to developing vaccines against infections by the organism.
"Funding for research is so difficult to find," said Nguyen. "I am very grateful to be awarded this opportunity. This means I can focus more of my energy on my work in the laboratory."
This is the fourth year the UTSA STCEID has awarded its scholarships to promising doctoral students.
"Microbiology requires that doctoral students spend as much time as possible in the laboratory performing experiments," said Klose. "This scholarship is a way to support talented students so they can prepare for successful research careers. Congratulations to Mr. Lin and Mr. Nguyen on receiving this year's STCEID scholarships."
Lin expects to graduate with a Ph.D. in 2015. Nguyen will graduate with his doctoral degree one year later.
The STCEID was established to support UTSA's teaching and research initiatives in molecular microbiology, immunology, medical mycology, virology, microbial genomics, vaccine development and biodefense. The center's researchers study the pathogenesis of emerging infectious diseases such as chlamydia, tularemia, cholera, Lyme disease, valley fever and others.