Faculty and staff: Nominate students for UTSA Ambassadors program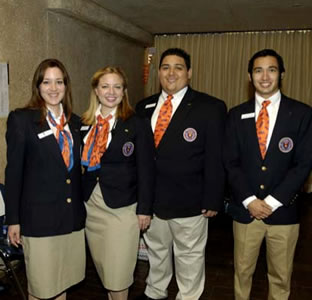 Share this Story
(Nov. 20, 2012) -- The UTSA Ambassadors program requests assistance in the annual recruitment of new members. UTSA faculty and staff members are invited to nominate outstanding second-semester freshman, sophomore, junior, senior or graduate students for membership in the UTSA Ambassadors.
UTSA Ambassadors are a group of 70 selected student leaders who provide a variety of volunteer services for the university and its administration, faculty and staff. The selected students will serve during the 2013-2014 academic year.
The following qualities should be considered in making nominations: scholarship (minimum 2.75 cumulative grade point average), leadership potential, participation in extracurricular and academic activities, and a willingness to serve UTSA. Nominees will be asked to complete an application form and to participate in an individual interview. The new UTSA Ambassadors will be announced in late March 2013.
UTSA Ambassadors volunteer more than 10,000 hours each year. Students selected for membership serve as student hosts and tour guides and provide other services at the Main Campus, Downtown Campus and Institute of Texan Cultures. Ambassadors engage in a yearlong comprehensive training program including workshops designed for student leadership and communication skills, etiquette skills, committee work and philanthropy.
>> Download the nomination form and complete with each student's full legal name, student number and major. Email the completed form to ambassadors@utsa.edu or fax to 210-458-6116. The deadline for nominations is 5 p.m., Monday, Dec. 10.