UTSA biologist Edwin Barea-Rodriguez named fellow in national PULSE program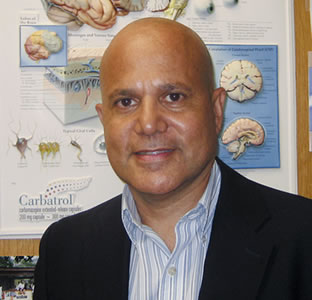 Share this Story
By Kris Rodriguez
Public Affairs Specialist
(Nov. 21, 2012) -- Edwin Barea-Rodriguez, professor and chair of the UTSA Department of Biology, was one of 40 educators nationwide selected as a Vision and Change Leadership Fellow for the Partnership for Undergraduate Life Sciences Education (PULSE). The fellows will identify and consider how to eliminate barriers and make changes necessary to improve undergraduate life sciences education.
Barea-Rodriguez was selected by an expert panel from a pool of more than 250 applicants. Fellows were chosen based on their experience in catalyzing reform in undergraduate biology education. Since 2006, Barea-Rodriguez has led the UTSA Minority Biomedical Research Support (MBRS), Minority Access to Research Center (MARC) and The Alfred P. Sloan Foundation Minority Ph.D. programs designed to increase the number and support undergraduate minorities pursuing advanced degrees in biosciences by providing research opportunities, a challenging curricula and various enrichment activities.
"I am honored to be selected as a PULSE fellow member and look forward to representing UTSA and the Department of Biology," said Barea-Rodriguez. "Our department strives to make a difference in biology education, and this fellowship will help me share what we are doing and learn what others are doing to successfully train students in the sciences."
"Edwin has led our educational programs by example of student success-centered approaches. We are very proud of this acknowledgement of his leadership," said George Perry, dean of the UTSA College of Sciences.
A UTSA College of Sciences faculty member since 1995, Barea-Rodriguez has researched and published in the field of learning and memory and has generated more than $16 million in research funding for UTSA. In 2006, he received the Richard S. Howe Excellence in Service to Undergraduate Students Award. Additionally, he has mentored 25 students; three obtained their doctoral degrees while working in his lab.
One of the students he mentored, Christine Ochoa, graduated in 2011 and is now in the graduate program studying neurosciences at UT Southwestern.
"Dr. Barea-Rodriguez was more than just an educational mentor. He helped me determine I was passionate about studying neuroscience and mentored me about choices, life, how to deal with failure and how to utilize my strengths," said Ochoa.
The PULSE program is a joint initiative of the National Science Foundation, Howard Hughes Medical Institute and the National Institutes of Health.