UTSA astronomy event features Hubble space telescope photos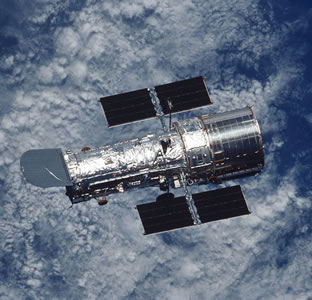 Share this Story
(Nov. 14, 2012) -- UTSA faculty astronomers invite the community to attend "Friday Nights, Celestial Lights," featuring Mark Jurena from the UTSA Department of Physics and Astronomy, who will discuss the Hubble space telescope. Free and open to the public, the family-friendly event is 7:30 p.m., Friday, Nov. 16 in Science Building Room 2.02.02 on the UTSA Main Campus.
Jurena will present some rarely seen images taken by the Hubble telescope. Launched in 1990, the telescope named after astronomer Edwin Hubble has been a vital research tool for NASA and has sent hundreds of thousands of images back to Earth from orbit.
Hubble telescope images have revealed the age of the universe to be 13 to 14 billion years old, and the data produced has been published in more than 10,000 scientific articles.
Following Jurena's presentation, weather permitting, attendees will view the night sky using UTSA's telescopes including a 15-inch telescope and several 8-inch Cassegrain telescopes. Night viewing will be from the fourth-floor patio of the Science Building, which is wheelchair accessible.
The monthly "Friday Nights, Celestial Lights" lecture and viewings began in 2009 as a celebration of the International Year of Astronomy, commemorating the 400th anniversary of Galileo Galilei using a telescope to observe the heavens.
For more information, contact Eric Schlegel, UTSA Vaughan Family Professor, at 210-458-6425 or Mark Jurena, UTSA astronomy lecturer, at 210-458-4922.