UTSA social work students host refugee public awareness event Dec. 7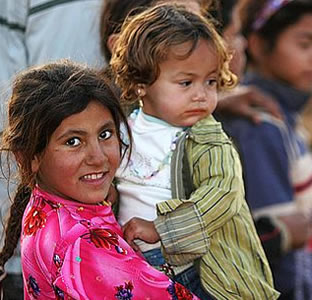 Share this Story
(Nov. 26, 2012) -- Graduate students in the UTSA Department of Social Work will host "In a Place of Refuge: Many Stories, One Goal," a refugee awareness event, at 6 p.m., Friday, Dec. 7, in the Buena Vista Street Building Aula Canaria (1.326) on the UTSA Downtown Campus. The event is free and open to the public.
The event will provide an opportunity for the San Antonio community to learn first-hand the stories of refugees who fled their homes seeking safety for themselves and their families, and to hear more about their everyday lives in San Antonio. Attendees will hear stories of refugees' personal struggles with apartheid, violence and oppression and, most importantly, their stories of courage in the face of adversity and the challenges they faced and still face as they acclimate to American life.
The stories of refugees who settled in San Antonio are as unique and intriguing as each individual. The event will dispel the myths… and let you hear the voices. Their accounts of violence, oppression and danger will astonish you, but no more than their depictions of resiliency and survival.
According to the Center for Refugee Services, nearly 1,000 refugees call San Antonio their new home every year. Refugees who live within San Antonio's city limits, however, are not strictly from countries publicized in conflicts such as in the Middle East.
Margaret Constantino, director of the Center for Refugee Services, says that over the past few years, refugees have come to San Antonio from Afghanistan, Bhutan, Burma, Burundi, Democratic Republic of Congo, Cuba, Ethiopia, Eritrea, Iraq, Iran, Liberia, Somalia and Sri Lanka.
Many of the refugees are hard-working, contributing members of society, but xenophobia and common misconceptions about their arrival in America and their use of resources in the Alamo City contribute to widespread unfamiliarity with their roles in our community. This lack of knowledge clashes with the newly acquired goals of our growing city. In fact, one goal of the SA2020 initiative is to "fight sexism, racism, elitism and homophobia everywhere and at all times" to promote the wellbeing of San Antonio families. This type of oppression, which San Antonio aims to eradicate, is just one of the many categories of persecution refugees fled their home countries to avoid.
>> Seating is limited and reservations, while not required, are encouraged. Reserve a seat by emailing inaplaceofrefuge@gmail.com.
>> Learn more about San Antonio refugee advocacy organizations and services, at the Center for Refugee Services website, at 210-949-0062 or on Facebook.