UTSA ROTC cadet Patrick Anderson ranked nationally in top 10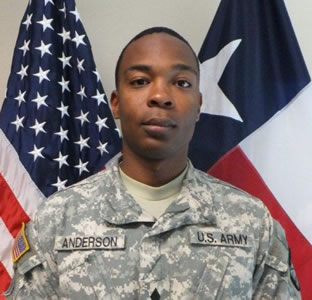 Share this Story
(Nov. 19, 2012) -- UTSA Army ROTCs Patrick S. Anderson has been ranked one of the top 10 senior cadets in the United States, according to the U.S. Army Cadet Command Order of Merit List.
The ranking includes all seniors across the country and names the top 20 percent as Distinguished Military Graduates. It measures senior cadets according to their academic strengths, athletic prowess in the Army Physical Fitness Test, and overall performance in ROTC and the Leader Development and Assessment course.
"It's his character, determination and hard work -- knowing what's expected of him -- which makes him such a strong leader and student," said Executive Officer Maj. Benjamin McMahon.
According to McMahon, UTSA's ROTC program is recognized as one of the top three in Texas, and Anderson's accomplishment is a testament to that.
A UTSA business major, Anderson has been on active duty for seven years. He is stationed at Fort Sam Houston and enrolled at UTSA as a result of its geographic proximity and the strength of its ROTC program.
"UTSA has an excellent ROTC program," said Anderson, "And, its being so close to Fort Sam and other military bases makes it very competitive. There are many cadets with military experience and training."
The cadet hopes to work in the medical field in administrative management. "In 10 years, I see him as a battalion commander or lieutenant colonel," said McMahon. "Really, there is no limit to what he can do."