UTSA ranked among top 400 world universities by Times Higher Education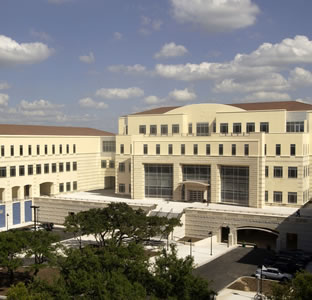 Share this Story
(Nov. 7, 2012) -- The University of Texas at San Antonio has been rated one of the top 400 universities in the world, according to the prestigious Times Higher Education World University Rankings. The rankings measure the core missions of world-class universities including assessments of teaching, research, knowledge transfer and international outlook.
UTSA is one of 111 U.S. universities to make the list and among just 70 public institutions in the United States to be ranked in the top 400. The rankings evaluate universities in 41 countries.
>> Learn more about the World University Rankings on UTSA Today.
"As we advance to Tier One status, we are developing new degree programs, recruiting new faculty and building new partnerships that are being recognized by our peers around the world," said UTSA President Ricardo Romo. "Transformational work is taking place on our campus and is it being cited by academics and researchers alike for its impact on the global community."
UTSA has embarked on an ambitious journey to become a Tier One research institution, placing an emphasis on creating academic and research programs in health, security, energy, sustainability, and human and social development.
For example, UTSA recruited Miguel Yacaman from the University of Texas at Austin to serve as professor and chair of the Department of Physics and Astronomy. Yacaman is a world-renowned scholar in nanoparticles and microscopy. Yacaman's research has been widely published, and he is considered a leading expert in his field. He was instrumental in helping UTSA acquire Helenita, one of the most advanced microscopes in the world.
The JEOL transmission electron microscope is propelling the development of new cancer therapies and disease treatments by allowing nanotechnology researchers to see samples magnified 20 million times their original size.
The microscope is one of the main reasons visiting scholar Sergio Mejia returns to UTSA again and again. Mejia, a physics professor at Universidad Autonoma de Nuevo Leon, calls the UTSA Advanced Microscopy Laboratory "one of the best electron microscopy facilities in the world."
"Since I first arrived to the UTSA campus, I was pleased to find a vibrant academic atmosphere, full of top-class researchers, impressive experimental labs, and bright, inquisitive students," Mejia said.
In the last decade, UTSA has placed an increasing focus on the importance of an international perspective. Julius Gribou, UTSA executive vice provost and senior international officer, studied architecture in Poland on a Fulbright fellowship. His goal is to ensure that the undergraduate education of all UTSA students includes an international component.
"We live in a globally interconnected world," said Gribou. "UTSA students and scholars travel outside the U.S. to conduct research. At the same time, international students and scholars come to San Antonio to enhance their own international perspective."
UTSA Provost John Frederick notes that assessments such as Times Higher Education's World University Rankings are an impactful resource for international students and researchers.
"A university's visibility and profile are very important, particularly for students and researchers who are looking for an international university with a prominent reputation," said Frederick. "It is an honor for UTSA to be included among those universities."
The views of more than 17,000 academics from 137 countries were factored into the Times Higher Education top 400 ranking.
Earlier this year, UTSA was ranked No. 53 in the Times Higher Education "Top 100 Under 50" rankings, which monitors the growth of young U.S. universities. Six other U.S. universities are similarly ranked on both lists including UC Irvine; UC Santa Cruz; UT Dallas; University of Illinois, Chicago; University of Maryland-Baltimore County and George Mason University.
--------------------
Methodology
The World University Rankings assess "globally competitive research-led institutions" using 13 performance indicators in five categories:
Teaching (30 percent), which includes a university's perceived reputation in research and teaching by academics around the world, student-to-staff ratio, the number of doctorates awarded, the ratio of doctoral degrees to bachelor's degrees awarded and institutional income-to-staff ratio
Research (30 percent), which includes a university's research reputation compared to its peers, research income and number of publications
Citations (30 percent) or the number of times a university's scholars are cited in publications around the world
International outlook (7.5 percent), ratio of international to domestic students, ratio of international to domestic staff and the number of publications published by university scholars that include at least one international co-author
Industry income (2.5 percent) or research income from industry