UTSA faculty recognized by San Antonio Women's Chamber of Commerce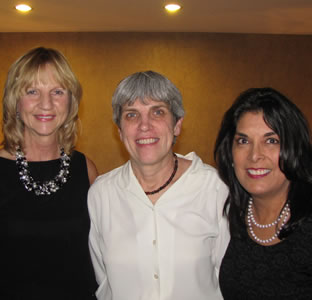 Share this Story
(Nov. 29, 2012) -- The San Antonio Women's Chamber of Commerce has named Martha Lundell, Raquel Marquez and Betty Merchant among the recipients of its Constellation of Stars Awards. The awards recognize women of the community who advocate for, connect and empower women through political or business influences, networking or teaching. The awards were presented Nov. 9 at the Constellation of Stars Gala.
Martha Lundell, associate professor of biology, has contributed to the development and expansion of UTSA's biology program and the academic preparedness of its students. In an effort to evolve the curriculum of Biosciences 1, Lundell incorporated mandatory weekly tutorial/recitation sessions for the 2,000-plus students who take the course every semester. Her role as a chair of the department's academic policy and curriculum committee has contributed to the growth of the undergraduate biology program and its entrance requirements. She assisted in the creation of the cell and molecular Ph.D. program and has been an asset in the recruitment of new faculty.
Raquel Marquez, professor and chair of the Department of Sociology, is a distinguished author and is working on a documentary film. Her work focuses on social issues that affect women and their families. She has developed a curriculum which studies gender issues with an emphasis on Latinas in society. Recently, she participated in an Oxford University roundtable on women's leadership, and consequently helped create the UTSA Women's Professional Advancement and Synergy Academy. The workshop series for female faculty and staff members focuses on the development of women's leadership and professional roles.
Betty Merchant, dean of the College of Education and Human Development, is an advocate for women's rights and social equality. Merchant helped establish the Consortium for Social Transformation -- an initiative for UTSA's academic programs in women's studies, African-American studies and Mexican-American studies -- and was involved in the transfer of the Women's Studies program to the COEHD. She is a strong supporter of the Women's Rape Crisis Center and other organizations designed to assist women and their families. Merchant is widely recognized for her authenticity and genuine dedication to social change and the advocacy of women.
"We are extremely proud of the accomplishments of Martha Lundell, Raquel Marquez and Betty Merchant," said John Frederick, provost and vice president for academic affairs. "Each of them -- in their daily work at UTSA -- teach, promote and exemplify the values that are celebrated through this awards program. More important, they each serve as outstanding role models for their colleagues and our students."
The San Antonio Women's Chamber of Commerce was established in 1988 to promote the business, economic and leadership development of women.