UTSA's new Community Connect magazine highlights programs, services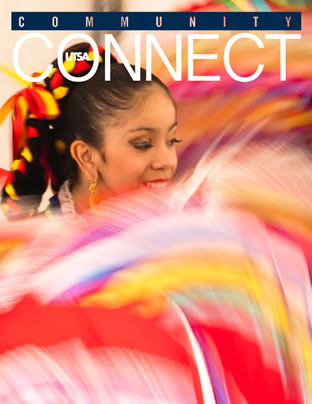 Share this Story
(Dec. 3, 2012) -- To celebrate and showcase UTSA's public service programs and community engagement activities, the Office of the Vice President for Community Services has launched a new annual publication called Community Connect.
The inaugural issue, published this month, includes feature stories on successful clients of the Institute of Economic Development, new academic-based youth programs, and news from the Institute of Texan Cultures and the Mexico Center, as well as community engagement activities in other UTSA colleges and departments.
"The reason we are publishing Community Connect magazine is to share the stories about how we're transforming lives in our community," said Jude Valdez, vice president for community services and executive editor of the magazine. "Public service has always been at the forefront of what we do at this university, and we don't tell those stories often enough."
As a vehicle for showcasing the university's community engagement and outreach efforts, the magazine also aims to build additional support for We Are UTSA -- A Top-Tier Campaign.
The UTSA community is invited to read about the service and outreach work going on around campus. Approximately 7,000 copies of the magazine were published and distributed to community and business leaders, government officials and donors.
>> Read the online edition of the UTSA Community Connect magazine.