UTSA newsletters
UTSA magazines
UTSA celebrates National Employee Learning Week Dec. 3-7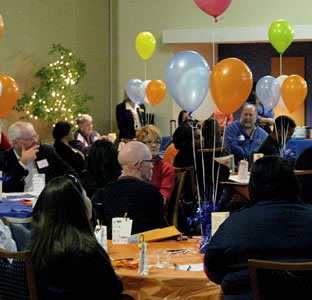 Share this Story
(Dec. 3, 2012) -- National Employee Learning Week, Dec. 3-7, recognizes the importance of continuous learning and improvement. It emphasizes the vital connection between a skilled workforce and organizational success. The University of Texas at San Antonio's pursuit of Tier One status includes an essential connection to the lifelong learning of university employees. Studies show a direct correlation between continuous employee development and an organization's ability to achieve its goals.
UTSA is committed to employee learning and values the excellent contributions of the Training and Development division of UTSA's Human Resources department. Additionally, HR Training and Development recognizes the indispensable contribution of more than 100 subject matter experts (SMEs), who teach specialized courses at UTSA.
SMEs are significant contributors to employee development. Through hundreds of classes, including those faclitated by SMEs, UTSA offers its' employees learning opportunities in technical skills as well as professional development.
>> UTSA celebrates National Employee Learning Week this year with an open house for SMEs to give special recognition and express appreciation from 8:30 a.m. to 10 a.m., Dec. 7 in the University Center Bexar Room (1.102) on the Main Campus.
For more information, call UTSA Human Resources Training and Development at 210-458-4658 or visit the HR Training and Development website.
------------------------------
UTSA Subject Matter Experts
| | |
| --- | --- |
| SME | Area |
| Moore, Regina | Accounting Office |
| Schweers, Cynthia | Accounting Office |
| Bay, Elizabeth | Budget, Planning and Development |
| Momen, Sharmin | Budget, Planning and Development |
| Polendo, Anita | Budget, Planning and Development |
| Simon, Mary | Budget, Planning and Development |
| Johnson, Marisol | COEHD Office of the Dean |
| Garcia, Erica | Compliance |
| Bixenman. Lisa | Controller |
| Chapman, Lenora | Controller |
| Macias-Ollervidez, Diana | Controller |
| Hernandez, Melissa | Counseling Services |
| Cartier, Lisa | Disbursements and Travel |
| Compean, Nora | Disbursements and Travel |
| Jones, Bradley | Distance Learning |
| Perkins, Elisa | Enrollment Services |
| Burns, John | Environmental Health, Safety and Risk Management |
| Delahunt, John | Environmental Health, Safety and Risk Management |
| Falcon, Israel | Environmental Health, Safety and Risk Management |
| Garza, Richard | Environmental Health, Safety and Risk Management |
| Kewley, Keith | Environmental Health, Safety and Risk Management |
| McCoy, Wendy | Environmental Health, Safety and Risk Management |
| Montoya, Brian | Environmental Health, Safety and Risk Management |
| Moroney, Brian | Environmental Health, Safety and Risk Management |
| Murph, Thomas | Environmental Health, Safety and Risk Management |
| Phelps, Kristee | Environmental Health, Safety and Risk Management |
| Spencer, Randy | Environmental Health, Safety and Risk Management |
| Flaum, Leonard | Equal Opportunity Services |
| Sosa, Nina | Equal Opportunity Services |
| Rubio, Joe | Facilities Housekeeping |
| Garza, Stacie | Fiscal Services |
| Valles, Chris | Fiscal Services |
| Leos, Ana | Graduate School |
| Rodriguez, Monica | Graduate School |
| Aguilar, Mary Lou | Human Resources |
| Barrera, Henry | Human Resources |
| Carter-Stiggers, Kathleen | Human Resources |
| Covarrubias, Sandy | Human Resources |
| Diaz David | Human Resources |
| Elliott, Georgina | Human Resources |
| Evetts, Jennifer | Human Resources |
| Fosmire, Ron | Human Resources |
| Guillot, Missy | Human Resources |
| Harris, Gloria | Human Resources |
| Hernandez, Samantha | Human Resources |
| Hernandez, Sandra | Human Resources |
| Jett, Anne | Human Resources |
| Jung, Jenny | Human Resources |
| Lopez, Jaime | Human Resources |
| Mazuca, Diane | Human Resources |
| Pina, Diane | Human Resources |
| Rover, Catina | Human Resources |
| Thibodeaux, Fran | Human Resources |
| Tingle, Bruce | Human Resources |
| Towey, Joe | Human Resources |
| Verdon, Judy | Human Resources |
| White, Claudia | Human Resources |
| Walker, Sharmane | Human Resources |
| Benson, Corey | Inclusion and Community Engagement |
| Trujillo, Ann Margaret | Inclusion and Community Engagement |
| Todd, Randy | Information Technology |
| Cordeau, Brian | Institutional Research |
| Sansone, Vanessa | Institutional Research |
| Fies, Carmen | Interdisciplinary Learning and Teaching |
| Chavez, JJ | Inventory |
| Ongay, Olinda | Inventory |
| Porter, Cassandra | Inventory |
| Sumner, James | Inventory |
| Danner, John | Legal Affairs |
| Arguello, Natasha | Library |
| Green, DeeAnn | Library |
| McAdams, Jeff | Library |
| Orth, Cynthia | Management Reporting and Administration |
| Pacheco, Araceli | Management Reporting and Administration |
| Cody, Jean | Office of Sponsored Programs |
| Garcia, Claudia | Office of Sponsored Programs |
| Garcia, Elizabeth | Office of Sponsored Programs |
| Manzano, Jorge | Office of Sponsored Programs |
| Rocha, Angelika | Office of Sponsored Programs |
| Kenon, Vanessa | Office of Information Technology |
| Brinson, Lane | Purchasing |
| Dickens, Robert | Purchasing |
| Gohlke, Julie | Purchasing |
| Jackson, Anne | Purchasing |
| Maldonado, Irene | Purchasing |
| Medina, Yvette | Purchasing |
| Metzger, Peggy | Purchasing |
| Spain, Ashley | Purchasing |
| Wollney, Richard | Purchasing |
| Bordelon, Sara | Registrar |
| Casas, Tammy | Registrar |
| Juarez, Enrique | Registrar |
| Laroque, Martha | Registrar |
| Marcus, Patricia | Registrar |
| Rodriguez, Melissa | Registrar |
| Villarreal, Chris | Registrar |
| Graves, Rachel | Research Integrity and Compliance |
| Jimenez, Jefferey | Research Integrity and Compliance |
| Smith, Ginger | Research Integrity and Compliance |
| Stevenson, Michelle | Research Integrity and Compliance |
| Gonzalez, Carol | Student Affairs |
| Jimenez, Anne | Student Conduct and Community Standards |
| Maryland, Sasha | Student Financial Aid |
| Torres, Christian | Student Financial Aid |
| Lee, Nikki | University Center |
| Mallard, Charlie | Undergraduate Studies Support and Technology |
| Salinas, Alicia | Undergraduate Studies Support and Technology |
| Thomas, LeeAnn | Undergraduate Studies Support and Technology |
| Brownlee, Tim | University Communications |
| Brown, Andrea | University Center |
| Martinez, Maria | University Center |
| Rivas, Laura | University Center |
| Carter, Elizabeth | University Police |
| Merritt, Geoffrey | University Police |
| Piepho, Melody | University Police |
| Merritt, Tracy | University Police |
| Sanchez, Lorenzo | University Police |