UTSA VOICES members spend day with middle-schoolers to talk about college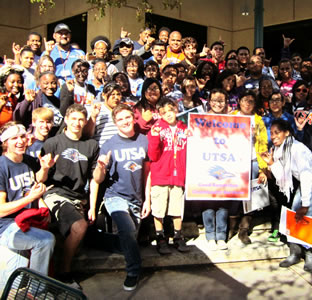 Share this Story
(Dec. 6, 2012) -- Saturday mornings for students usually are reserved for sleeping late, watching Saturday morning cartoons or tailgating at a UTSA Game Day. However, 40 members of the UTSA student organization VOICES (Volunteer Organization Involving Community Education and Service) spent a recent Saturday morning at the UTSA Main Campus playing games, educating, mentoring and bonding with 20 middle-school students from Good Samaritan Community Services Youth Development Services (GSCS).
GSCS helps young people learn life and academic skills necessary for personal success. With this in mind, activities were prepared to help educate the younger students about how to get into college and the many opportunities that higher education can provide.
The students went "fishing" for questions about college, "bowled" down negative behaviors that will keep them out of college, matched various universities with their mascots, created vision boards to visualize their goals and performed skits about college situations.
At the end of the day, the students received a campus tour and learned the UTSA fight song from the enthusiastic VOICES members. The day was possible because of a Family Fund grant awarded to VOICES.
For more information, visit the VOICES website or stop by University Center Room 1.216 on the UC Paseo at the Main Campus.