UTSA and San Antonio ISD graduate participants of parent academy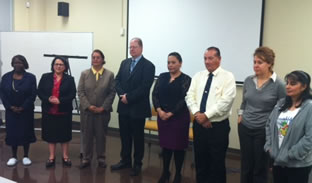 Share this Story
(Dec. 14, 2012) -- The first group of eight parents who participated in the College and Career Readiness Parent Academy will graduate Dec. 19. The University of Texas at San Antonio and San Antonio Independent School District partnered to offer the program, which offered a series of leadership seminars in the last four months.
The program is a part of the Gaining Early Awareness and Readiness for Undergraduate Programs (GEAR UP 2) initiative. The graduation ceremony is 7 p.m., Wednesday, Dec. 19 in the Buena Vista Street Building Aula Canaria (1.328) on the UTSA Downtown Campus.
UTSA received a seven-year GEAR UP II grant, which provides college-readiness services to a group of students currently in the eighth grade. The parent academy supplements the program offered to the students by taking the college-preparedness message directly to the neighborhood. The lessons help parents develop an understanding of the greater community and how it impacts their children's schools. Each seminar focuses on a particular topic such as leadership development, academic success planning or financial literacy.
"By providing leadership development to parents, we are helping to build a college-going culture in San Antonio ISD communities one family at a time and one neighborhood at a time," said Joseph Kulhanek, director of the UTSA GEAR UP 2 program. "These parents are essential to their students' success."
The Office of P-20 Initiatives provides leadership programs that enable students to develop and complete their educational goals through collaborative partnerships with K-12, post-secondary institutions and other groups in the community.
To learn more about the GEAR UP program, contact Joseph Kulhanek at 210-458-2422.