Lapara Medical wins UTSA $100,000 Student Technology Venture Competition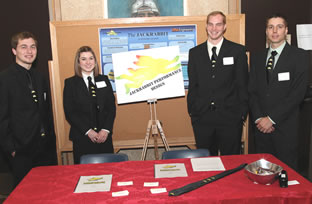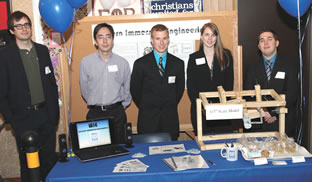 Share this Story
(Dec. 5, 2012) -- UTSA business and engineering students who developed and marketed a prototype laparoscopic device to cool a person's kidney before surgery won first place Dec. 1 in the $100,000 Student Technology Venture Competition at the UTSA Main Campus.
Organized by the UTSA Center for Innovation and Technology Entrepreneurship (CITE), the high-tech business-planning competition offers UTSA engineering and business students the chance to test their entrepreneurial skills by launching new companies. They also receive coaching from the Venture Mentor Network organized by the Harvard Business Club of San Antonio.
This semester's winning team, Lapara Medical includes undergraduate engineering majors Richard Canty, Adam Daufen, Luis Davila and Justin Ernest and undergraduate business majors Shelbi Chrislip, Duncan Hughes and Warren Norket.
"Winning made all our hard work worthwhile," said Warren Norket, senior business management major and representative of the winning team. "We learned so much through our mentor, Mr. Ruben Zamorano, and all the key advisors he introduced us to, as well as Dr. Anita Leffel, who pushed us to do our very best. We all worked well together and everyone did their part."
UTSA start-up teams Jack Rabbit and Western Immersion Engineeringtook second and third place in the competition, respectively. Jack Rabbit is a remote control car jack that allows one person to move an immobilized automobile from one end of a mechanic shop to another. Western Immersion Engineering's product is the RowdySim 240, a motion gaming chair that can be used with flight, racing and roller coaster computer simulator games.
"I feel very lucky to have been one of the teams that placed," said Brooke Foret, senior business management major and representative of team Jack Rabbit. "We have worked very hard all semester on this, and it is nice to see our hard work has paid off. We really believe in our product, and I'm so glad to see that other people do as well."
"At the beginning of the semester, we seemed to be the underdog, but we pulled everything together and showed everyone that we had an awesome team and a great product," said Breanna Oliver, senior psychology and business management major and representative of Western Immersion Engineering. "Hands down, this was the best experience of my college career."
The three winning teams will split more than $100,000 in cash and business-related services and soon will be taking the next steps toward commercializing their technologies.
Additional competitors developed technologies that include a transmission for a gear bicycle that will display distance, fat and calorie burn rate much like one sees on a stationary bicycle in the gym; a specialized location tracking system that offers rescuers a way of finding trapped miners in the fastest and most efficient manner; and a mechanism that will aid golfers in predicting distance and best angle to a hole by combining live weather with wind speed and direction.
Held semi-annually, the $100,000 tech competition at UTSA offers the largest award of all undergraduate business planning competitions in the nation. Established in 2007, this competition offers UTSA's undergraduate students the opportunity to build a technology, patent it, create a business and launch it in a rigorous incubator program.
The UTSA $100,000 Student Technology Venture Competition is sponsored by the Texas Research and Technology Foundation, Cox | Smith, the Harvard Business School Club of San Antonio, Rackspace Hosting, the San Antonio Technology Center, Startech, the UTSA College of Business and the UTSA College of Engineering.
For more information, visit the UTSA Center for Innovation and Technology Entrepreneurship website.