UTSA awarded $20K by Texas Bar Foundation for foster youth mentoring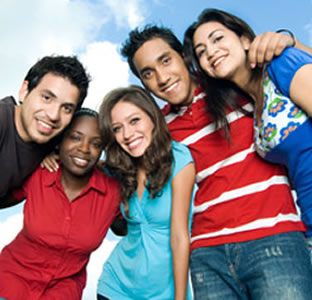 Share this Story
(Dec. 12, 2012) -- The Texas Bar Foundation has awarded a one-year, $20,000 grant to scholars in the Bank of America Child and Adolescent Policy Research Institute at The University of Texas at San Antonio to initiate a mentoring program for delinquent foster youth in San Antonio. The program, which explores the use of paid mentors, is expected to model delinquency reduction strategies for local youth by increasing their graduation odds and enhancing their college readiness.
According to the nonprofit organization Children's Rights, more than 1,000 children enter foster care each day. They will remain in foster care for an average of two years, and many will struggle through the emotional transition from adolescence to adulthood at a time when they should be learning the skills for independence.
"Delinquent youth in foster care are, through various circumstances, at a high risk for adult incarceration and other negative life outcomes," said Michael Tapia, assistant professor in the UTSA College of Public Policy. Tapia is a criminal justice scholar focused on youth gangs, minority youth in the criminal justice system and mentoring programs for at-risk youth. "Our program seeks to help youth establish close and trusting relationships with caring mentors who will serve as catalysts to transform their future," he said.
Mentoring programs generally demonstrate many positive effects. Successful mentor-mentee relationships help mentees flourish in academics, job preparation, self-confidence, problem solving and goal setting.
UTSA's unique program will match delinquent foster youth with traditionally college-aged students who are close to them in age, known as "near-peer" matches. UTSA will use paid mentors from its Department of Criminal Justice to guarantee a high-intensity program with regular communication between the mentors and the youth.
UTSA's partner, BCFS Health and Human Services, will refer the youth and host early program activities such as mentor training and matching with youth.
Completion of a UTSA course that helps mentors better understand the challenges that foster youth face and the solutions available to them will be required before a mentor can participate in the program. Additionally, Tapia will provide coaching during the program to help the mentors hone their listening and communication skills.
"Our goal is to facilitate the development of strong connections between our mentors and the foster care youth they serve," said Harriett Romo, UTSA professor of sociology and director of the Bank of America Child and Adolescent Policy Research Institute. "We want our foster care youth to reach their fullest potential. We also hope this partnership will allow our criminal justice majors at UTSA to have a fuller understanding of the barriers that youth face as they make choices that could lead to higher education or less productive outcomes."
Since its inception in 1965, the Texas Bar Foundation has awarded more than $14 million in grants to law-related programs. Supported by members of the State Bar of Texas, the Texas Bar Foundation is the nation's largest charitably funded bar foundation.
The Bank of America Child and Adolescent Policy Research Institute at UTSA creates opportunities for low-income children and families in Bexar County to thrive and evaluates the efficacy of programs that address needs unique to the region's population.
For more information, contact Professor Michael Tapia at 210-458-2628.