San Antonio researchers garner top awards at inaugural vaccine symposium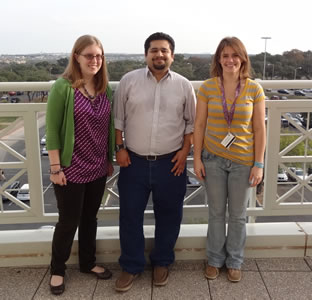 Share this Story
(Dec. 13, 2012) -- UTSA graduate students Christine Lindsay Miller and Aimee Signarovitz and post-doctoral fellow Rishein Gupta were recognized for outstanding research poster presentations at the inaugural San Antonio Vaccine Development Center (SAVE) Symposium. The symposium, "Vaccine Antigen Discovery and Vaccine-Induced Immunity," was held Nov. 16 at the UT Health Science Center San Antonio Greehey Children's Cancer Research Institute.
Miller, Gupta and Signarovitz are all conducting research in the College of Sciences Department of Biology. They received the first, second and third prize, respectively, for their symposium presentations.
Antigens are substances such as bacteria, fungi or pollen that stimulate the immune system to produce antibodies. An antibody is a protein produced by the immune defenses when the harmful antigen is recognized.
Under the direction of Janakiram Seshu, associate professor of microbiology, UTSA cell and molecular biology doctoral student Christine Miller is studying Borrelia burgdorferi, the bacterium that causes Lyme disease. The bacterium is carried by ticks and expresses proteins that allow it to quickly adapt to its mammalian host and cause disease.
Scientists have identified the gene expression regulators that allow B. burgdorferi to express the proteins it needs to survive. Miller, however, has found a regulator that turns the genes off, a critical piece of information for the development of a vaccine against Lyme disease. Her poster, "Role of Borrelia burgdorferi Host-Adaptation Regulator (BadR) in the Patho-physiology of the Agent of Lyme Disease," presented her findings.
In 2009, Gupta joined UTSA professor Bernard Arulanandam's laboratory as a post-doctoral researcher to study host immune responses against chlamydial infections and effective intervention techniques. The bacterium Chlamydia trachomatis is one of the leading causes of sexually transmitted diseases.
Gupta's poster, "In Vivo Whole Animal Body Imaging Reveals the Possible Contribution of Host Innate Factors in Early Colonization of Chlamydia trachomatis Within the Murine Female Genital Tract," demonstrated how to track fluorescent stained bacteria and monitor their movement inside the body in real-time. He is especially interested in understanding how a hosts immune system may aid the progression of the infection and how to inhibit those processes to develop a vaccine that prevents the infection from spreading.
Signarovitz is a UT Health Science Center student pursuing her doctoral degree in microbiology and immunology. Like Gupta, she researches in Arulanandam's laboratory. Her poster, "Mucosal Immunity from Oral Vaccination Involves Antigen Trafficking By M-cells and Goblet Cells," explores two types of cells involved in oral vaccinations. M-cells are known to remove antigens from intestines. Goblet cells make mucus in intestines and lungs. Using the bacterium Francisella tularensis, which causes the disease tularemia, she is researching ways to affect the body's immune response during vaccination.
The San Antonio Vaccine Development Center, launched in 2012 with assistance from BioMed SA, builds upon the mutual vaccine research resources of four San Antonio institutions: UTSA, UT Health Science Center, Texas Biomedical Research Institute and Southwest Research Institute. This month's symposium was the center's inaugural event.
"We were so pleased to see posters presentations of such a high quality at our inaugural symposium," said Bernard Arulanandam, the UTSA Jane and Roland Blumberg Professor of Biology. "Our UTSA students fared very well in a competitive arena. We are so proud of their hard work and the opportunity the symposium gave them to learn about infectious disease research programs beyond their own areas."
>> Learn more at the San Antonio Vaccine Development Center website. Learn more about the UTSA microbiology and immunology programs at the Department of Biology and STCEID websites.