See new VIA Primo bus at UTSA Main Campus 9 a.m.-noon, Dec. 4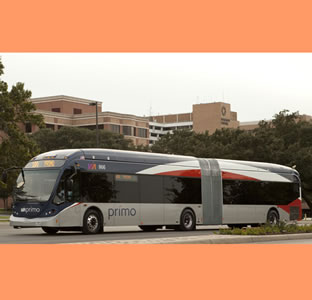 Share this Story
(Dec. 3, 2012) -- A new VIA Primo rapid transit bus will be on display from 9 a.m. to noon, Tuesday, Dec. 4 at the VIA bus stop on the north side of the UTSA Main Campus. The visit is to promote the new service to the Main and Downtown campuses, which begins Dec. 17.
VIA Primo, Bexar County's first high-capacity bus rapid transit (BRT) line, will serve the Fredericksburg Road corridor running from the UTSA Main Campus to the Medical Center and continuing to the UTSA Downtown Campus.
Benefits of the new buses include modern-style, high-capacity alternative fuel buses with free Wi-Fi, LCD information displays, real-time arrival information along the route, transit signal priority to speed up travel times and the ability to carry bikes on board.
For more information about VIA Primo, visit the VIA Metropolitan Transit website.