UTSA Alumni Association hosts Diploma Dash 5K March 2 at Main Campus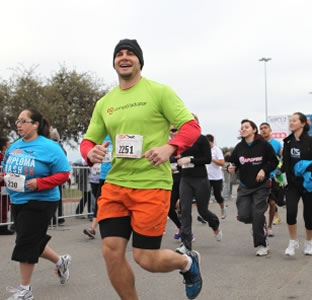 Share this Story
(Feb. 6, 2013) -- The 29th annual UTSA Alumni Diploma Dash 5K San Antonio City Championship Run will feature a brand new chip-timed course and a new starting point on the UTSA Main Campus on Saturday, March 2. Sponsors from the community, UTSA alumni and volunteers will deliver a morning of exercise, terrific amenities and prizes. (See the award categories.) Runners, walkers and their families are invited to attend the race, which will be held rain or shine.
>> Register now for the Diploma Dash at the UTSA Alumni Association website. Race day shirts will be guaranteed for all participants who register by Feb. 15. UTSA faculty and staff can register for a special price of $30, which includes a one-year membership in the UTSA Alumni Association and admission to many UTSA Alumni events.
Eileen Teves, co-host of KENS-5's "Great Day SA," will emcee the race, which officially starts at 8 a.m. on the UTSA Main Campus at Bauerle Road parking lot 3.
Randolph Brooks Federal Credit Union joins the Diploma Dash as the 2013 title sponsor. Orlando Rummans '97 and Catherine Austin '07 are co-chairs for this year's race. Musical guests Elijah Zane and The Experience will return to provide entertainment for the fourth year in a row.
Proceeds from Diploma Dash benefit the UTSA Alumni Scholarship Fund and alumni programs and services.
In addition to a new course, this year's Diploma Dash will feature:
Disposable chips on the back of race bibs that will not need to be returned after the race;
Professional photography, courtesy of Wolfe Photography, that will allow participants to see race images online through a simple search by bib number;
Food and drink sponsors including a Budweiser beer garden, courtesy of race sponsor Silver Eagle Distributors;
Medals for the first three canines to cross the finish line;
Race registration fees are:
$35 for the general public, until midnight February 20
$30 for UTSA faculty and staff (includes one year membership in UTSA Alumni Association)
$40 for the general public, starting February 21
$25 for UTSA Alumni Association members
$10 for UTSA students with ID
$10 for members of the military
Race participants are encouraged to pick up their packets Feb. 27, Feb. 28 and March 1, before race day. Race day packet pick-up will begin at 7 a.m. at Bauerle Road parking lot 3.
Race awards will be handed out in various categories based on age, gender and teams. Additionally, the first three dogs to cross the finish line will receive medals.
Visit the Diploma Dash website to start an on-your-own training program to prepare for the event.
Diploma Dash is hosted by the UTSA Alumni Association in partnership with generous community sponsors. This year's sponsors, to date, include RBFCU, DOCUmation, H-E-B, North Park Subaru, Liberty Mutual, Bud Lite/Silver Eagle Distributors, Frost, Capital Group Companies, Accu-Print, Nature Sweet, 5-Hour Energy, McDonald's, World Wide Clinical Trials, Kiolbassa, Pepsi, Pure Party Ice, Run Wild Sports, TSO-Jack Roundtree, OD, UTSA Ambassadors, FTK, REAL Physcial Therapy, Soler Sports, BRIO and Mia's.
For more information or to be a race sponsor, contact the UTSA Office of Alumni Programs at 210-458-4133.
------------------------------
About UTSA
The University of Texas at San Antonio is one of the largest of nine academic universities and six health institutions in the UT System. As a multicultural institution of access and excellence, UTSA aims to be a national research university providing access to educational excellence and preparing citizen leaders for the global environment. UTSA serves nearly 31,000 students in more than 135 degree programs in the colleges of Architecture, Business, Education and Human Development, Engineering, Liberal and Fine Arts, Public Policy and Sciences and University College, Honors College and Graduate School. Founded in 1969, UTSA is an intellectual and creative resource center and a socioeconomic development catalyst for Texas and beyond.
About UTSA Alumni Association
The UTSA Alumni Association supports the educational activities of The University of Texas at San Antonio, policies generally favorable to higher education, and engages in other benevolent and charitable undertakings relevant to the mission of UTSA. The association currently has more than 7,500 active members, supports more than 93,000 alumni worldwide and has awarded more than $1,000,000 in scholarships to UTSA students. The UTSA Alumni Association is incorporated as a charitable organization under the Texas Nonprofit Corporation Act. It is qualified as a tax-exempt organization under Section 501-c-3 of the United States Internal Revenue Code of 1986.