UTSA students: Apply now for Clinton Global Initiative conference in April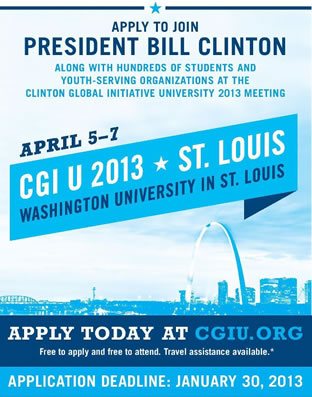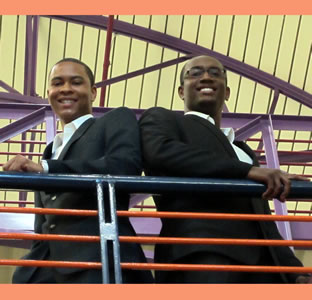 Share this Story
(Jan. 22, 2013) – UTSA students can apply now to attend the Clinton Global Initiative's CGI U 2013 at Washington University in St. Louis from Friday, April 5 to Sunday, April 7.CGI U is former U.S. President Bill Clinton's initiative to engage the next generation of leaders on college campuses around the world.Each CGI U student must make a Commitment to Action -- a specific plan of action that addresses a pressing challenge on campus, in the community or in a different part of the world.
>> More than $300,000 funding is available for CGI U 2013 student attendees to turn their ideas into action. To be eligible for these funding opportunities, students must first apply online to attend CGI U 2013. The application deadline is Wednesday, January 30.
"CGI U is proof that young people have the power to make a significant impact by confronting some of the world's most urgent challenges," said UTSA senior Travis Merriweather, who recently was selected by Clinton Global Initiative University to be the UTSA Campus Representative for the 2012-2013 academic year. "I encourage UTSA students to apply who are interested in making a positive impact in the world and building a network to innovative social entrepreneurs."
As campus representative, he will work with students, youth organizations and the university community to build awareness of CGI U on campus. Additionally, he is conducting a campuswide outreach program to spread the word about CGI U, organize recruitment events with interested students, and help CGI U applicants develop their Commitments to Action.
Last year, Travis and his twin brother, Rustein Merriweather, were selected to attend the Clinton Global Initiative University conference in Washington, D.C. Their proposal submitted for the conference focused on creating sustainable initiatives at The University of Texas at San Antonio.
"As the first UTSA participants in CGI, we were humbled by the opportunity to attend, not only for myself and my brother, but to be representing UTSA as well," said Rustein. "Our acceptance to the conference will give hope to other UTSA students to apply in the future."
According to Travis, "[The initiative] gave us ideas, tools and contacts to bring back to UTSA that will further assist us in creating a more sustainable campus, as well as learning from other peers on issues affecting their communities."
Building on the successful model of the Clinton Global Initiative, which brings together world leaders to take action on global challenges, President Clinton launched the Clinton Global Initiative University (CGI U) in 2007 to engage the next generation of leaders on college campuses around the world.
Each year, CGI U hosts a meeting where students, youth organizations, topic experts and celebrities come together to discuss and develop innovative solutions to pressing global challenges. President Clinton will host the sixth annual meeting of CGI U in April to make a difference in CGI U's five focus areas: Education, Environment and Climate Change, Peace and Human Rights, Poverty Alleviation, and Public Health. The meeting will bring together student leaders, NGO representatives, topic experts and other prominent innovators to brainstorm ideas, share best practices and develop their action plans for the months ahead.
UTSA students Christine DeMyers and Sabrina Johnson already have benefited from the outreach, and have become the newest UTSA students accepted as student member of CGI U 2013. DeMyer's team commitment to action involves bringing a student-run community garden to UTSA in which the vegetables produced will go toward an on-campus farmers market in support of healthy and organic alternatives.
>> Stay updated at the CGI U Team UTSA Facebook page or email Travis Merriweather.