UTSA to participate for sixth year in national RecycleMania competition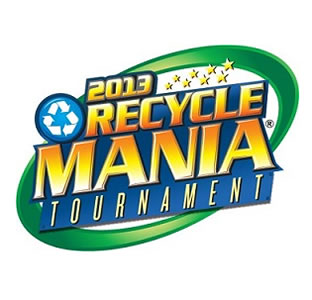 Share this Story
(Jan. 11, 2013) -- For the sixth year, The University of Texas at San Antonio will participate in the national intercollegiate competition, RecycleMania. Running Jan. 20-March 30, the goal for each university in the completion is to recycle the most pounds of recyclables per capita.
The participation of the entire UTSA community is important. Besides achieving a greener environment for the university and the community, the contest highlights UTSA's recycling program, which includes education, promotion, teamwork and recognition of participants.
During RecycleMania 2013, besides collecting the regular recyclables, there will be specially organized sensitive-document paper collection days at the Main and Downtown campuses, where there will be document shredding. Watch UTSA Today for announcements of the dates of the events.
In last year's national competition, in the Gorilla category, UTSA ranked 69th among 296 colleges and universities, by gathering 247,832 pounds of recyclable materials -- a 31.7 percent increase over the 188,184 pounds collected the previous year, and moving up 34 ranks. Additionally, UTSA placed fourth in Texas, right behind Texas A&M University, which placed third in the category.
>> Think before you throw away items that can be recycled. Recyclables include paper, cardboard, plastics, aluminum cans, glass bottles and Styrofoam food containers (take-out trays and cups). Exceptions include items such as food, liquids, used napkins and facial tissues, coffee grounds and Styrofoam formed packing. Everything else goes in the blue recycling bins across the campuses.
For more information, visit the UTSA Recycling website.