UTSA students organize donation drive for local women's shelter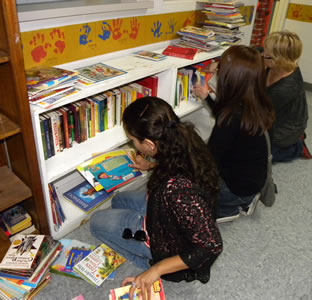 Share this Story
(Jan. 8, 2013) -- Last month, 11 students in a class taught by Elizabeth Pate, UTSA professor of interdisciplinary learning and teaching, delivered boxes upon boxes of donations to the Salvation Army Women's Shelter. The students in the College of Education and Human Development course, Applied Service-Learning in Social Studies – Grades 4-8, set up donation bins around the UTSA Main Campus and invited friends and family members to contribute.
What began as a book drive evolved into a collection of books, clothing, shoes, toiletries, electronics, toys and more. During the donation delivery, students completed a new library for women and children and spent time talking with residents of the shelter.
The students chose the project after identifying a need in the community and visiting the agency to learn about their needs, functions and impact on women in San Antonio. Student Bonnie McGuire said, "It is icing on the cake that I am able to get a hands-on learning experience while giving back."
Service-learning combines service objectives with learning objectives to make an impact on both student learning and the agency or community served. It integrates community service with instruction and reflection to enrich the student learning experience, instill a sense of civic responsibility and strengthen communities.
One student wrote that, "This was a personal, first-hand account of how our service was put to good use, as we were able to see exactly who benefited from our service." Another student wrote, "If a teacher can involve their students in projects like these, then they are creating an environment that is not only culturally relevant and socially just, but one that places an importance on teamwork, service, compassion, community awareness and authentic learning experiences."
"Volunteering offers an excellent opportunity to learn about the problems faced by these young women," said case manager Orlando Garcia.
The Salvation Army Women's Shelter provides support, encouragement and guidance for women and children fleeing domestic violence. Services include intake assessment, daily case management, and teaching parenting and life skills.
>> Learn more at the Salvation Army Women's Shelter website.
>> Learn more about service-learning programs at the UTSA Inclusion and Community Engagement Center website.