UTSA Trombone Choir is ready for busy semester of performances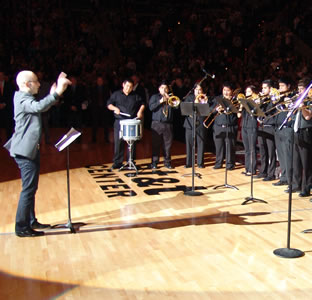 Share this Story
(Jan. 23, 2013) -- The UTSA Trombone Choir recently was featured at the AT&T Center, performing the national anthem Jan. 5 at the Spurs game. The performance was aired on the television broadcast of the game.
This marks an eventful year for the UTSA Trombone Choir, which is directed by faculty member Steve Parker. In October, they premiered a monumental work for 80 trombones at the Blanton Museum of Art in Austin to an audience of more than 500 and were reviewed by NewMusicBox, Culturemap Austin, Austin American-Statesman and local NPR affiliates.
This month, the trombone choir will travel to Texas Tech in Lubbock to perform as featured artists at the Big 12 Trombone Conference.
This spring, the choir will perform at UTSA with Grammy-nominated trombonist Bradley Kerns and international soloist Abbie Conant, who was featured in Malcolm Gladwell's bestselling book, "Blink: The Power of Thinking Without Thinking." Kerns is a University of Kentucky professor of trombone, who maintains a versatile performing, recording and teaching schedule.
For more information, visit the UTSA Department of Music website.