UTSA Air Rowdy upgrade increases wireless coverage on campus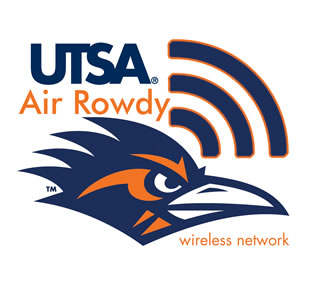 Share this Story
(Feb. 18, 2013) -- As part of the top priority to ensure the UTSA community has uninterrupted wireless coverage, the UTSA Office of Information Technology began an upgrade to the Air Rowdy wireless system in January. Phase One of the project involved the network team replacing all of the current access points with new ones.
The new access points can handle more wireless traffic, which is important at a university the size of UTSA, where individuals often operate multiple wireless devices. Access points also were added to the Roadrunner Café, where previously there was limited wireless coverage.
Phase Two of the project began Feb. 18. This portion of the upgrade will address density and coverage issues in each building. Additional access points will be added in high-traffic areas to ensure the best wireless coverage possible.
Added benefits to the new Air Rowdy include cloud-based management and easy-to-add access points to ensure a consistent and strong signal in high-traffic areas.
Additionally, OIT can now monitor Air Rowdy signal coverage and address problems quickly. The upgraded system provides a more secure wireless network where unwanted traffic can be restricted.