UTSA Robotics Camps offered to Southwest Independent School District students thanks to Terracon Foundation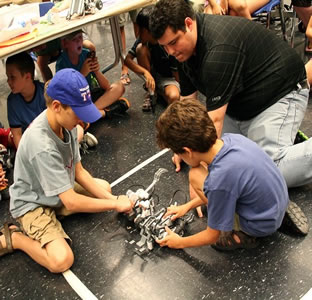 Share this Story
(Feb. 20, 2013) – Thanks to a generous $5,000 gift from the Terracon Foundation, 60 sixth grade students from Ronald E. McNair Middle School in Southwest Independent School District (SWISD) will be able to explore the exciting world of robotics next month during two free day-long camps coordinated by the UTSA College of Engineering's Interactive Technology Experience Center (iTEC) and the UTSA Office of P-20 Initiatives.
The two Terracon robotics day camps, designed to introduce the middle school students to LEGO® robotics, will take place from 9 a.m. to 4 p.m., Mar. 11 and 12 at the UTSA Main Campus. Students will begin their day by building a standard robot. Then they will learn the programming skills necessary to make the robot move, turn and navigate through a course. Finally, students will add attachments to their robots in preparation for the grand finale: a Sumo Bot competition!
"We are pleased to receive this gift from the Terracon Foundation in support of iTEC at UTSA," said Can Saygin, UTSA mechanical engineering professor and iTEC center director. "Through this partnership, we are able to expose young minds to a bright future in science, technology, engineering and math. We are thankful that Terracon shares our vision to provide access to young students who might not otherwise have this opportunity to work alongside our engineering students and discover their maximum potential."
Established in 2007, iTEC's mission is to inspire youth by creating an environment where they can understand how science, technology, engineering and math shape our lives and the future of the world. Throughout the year, iTEC hosts camps and competitions for youth, teacher training workshops, and partners with school districts and other educational institutes across San Antonio to offer meaningful outreach activities for school-aged children.
"This collaborative project between UTSA and SWISD promotes active participation of students in scholastic settings to establish and enhance their desire to pursue higher education," says Keli J. Wilson, social worker at McNair Middle School. "We look forward to the success of this program during Spring Break and look forward to many more partnerships between younger students and those seeking higher degrees."
UTSA alumna and Terracon employee, Laura J. Campa, P.E., was instrumental in securing the gift for the camp. "The iTEC program will introduce STEM programs to minorities, including female students, in middle school which is the time when many students develop interest in these types of programs. Diversity in STEM programs and in technical professions is a challenge that firms like Terracon recognizes. UTSA is an amazing university that is working to position itself as a Tier One research facility."
Terracon is a dynamic and growing employee-owned nation-wide firm of consulting engineers and scientists providing geotechnical, environmental, construction materials, and facilities services to clients at local, regional, and national levels. For more information, visit http://www.terracon.com.
The UTSA Office of P-20 Initiatives provides leadership to enable students to develop and complete their educational goals through collaborative partnerships with K-12, post-secondary institutions and from within the greater community. For more information, visit http://p20.utsa.edu.
For updates, visit the iTEC Facebook page.