UTSA East Asia Institute presents March 26 lecture by Korean ambassador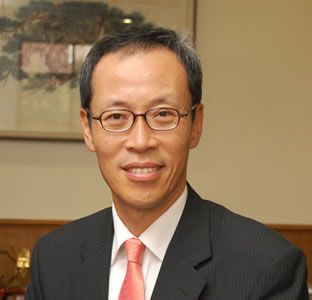 Share this Story
(March 22, 2013) --The UTSA East Asia Institute (EAI) will present Ambassador Suk-Bum Park, consul general of the Republic of Korea in Houston, speaking on "The Future of Korea-U.S. Relations" at 6:15 p.m., Tuesday, March 26. Free and open to the public, the lecture will be in Business Building Room 1.01.15 on the UTSA Main Campus. Paid parking will be available in the Bauerle Road Garage.
Park will highlight recent major events, milestones and developments that affect the Korea-United States relationship to illustrate the importance of reinforcing collaboration for the future. His lecture will address the swearing-in of the 18th president of Korea on Feb. 25, the 60th anniversary of the Korea-U.S. Alliance, and progress and opportunities to develop the relationships between Korea and the United States.
Park has held numerous positions allowing him to build and promote relations with Korea on an international level. Past positions include ambassador extraordinary and plenipotentiary to the People's Republic of Bangladesh, ambassador extraordinary and plenipotentiary to the Republic of Iraq, and director-general of international economic affairs for the Korean Ministry of Foreign Affairs and Trade. He has a bachelor's degree in economics from Korea University in Seoul and a diploma in international political science from the International Institute of Public Administration in Paris, France.
Based on GDP, Korea's economy is ranked 13th in the world. Its economy is ranked eighth in the world for exporting and importing. Korea is an important trading partner for the United States and for Texas. That partnership with Korea continues to grow with the help of the recently passed Korea-United States Free Trade Agreement (KORUS FTA).
The Korean Consulate General in Houston serves Arkansas, Louisiana, Mississippi, Oklahoma and Texas. Its mission is to promote the relationship between Korea and the aforementioned states especially in trade, cultural awareness and exchange programs.
The UTSA East Asia Institute mission is to promote appreciation and understanding of East Asian societies and cultures on campus and in the community through research, outreach, networking, education, student-faculty exchange, and business development and cooperation. The institute organizes seminars, workshops, lectures, conferences, film festivals and visual art exhibitions as well as hosting performing arts groups from China, Japan, Korea and other Asian nations. The institute encourages faculty research collaborations within UTSA and with participating East Asian university researchers.
For more information, contact the East Asia Institute at 210-458-4943, email eai@utsa.edu or visit the East Asia Institute website.