UTSA professor returns home to Rio Grande Valley to inspire college-going culture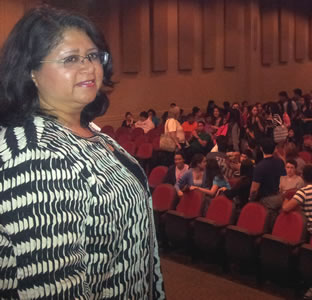 Share this Story
(March 22, 2013) -- As part of the UTSA Office of P-20 Initiatives road trips to South Texas, a UTSA professor returned to her alma mater, Donna High School, to motivate students to attend college. Associate Professor Maricela Oliva in the UTSA Department of Educational Leadership and Policy Studies returned to the Rio Grande Valley recently to speak to approximately 600 students at Sharyland High School in Mission and Donna High School in Donna about the importance of education beyond high school.
Oliva described her personal academic journey and told students that the support of their families is an important asset in helping them pursue and achieve their academic dreams. Belinda Saldana, UTSA director of community outreach in the Office of P-20 Initiatives, provided students with a UTSA overview and various higher education pathways.
"Students truly benefit from role models that they can relate to," said Saldana. "It was wonderful to see the students seek advice and information from Dr. Oliva, realizing that she was from their community."
Oliva accompanied the UTSA Mobile Go Center on its visits to targeted high schools in South Texas. A one-stop source for college knowledge, the center helps prospective college students and their families prepare college admission applications and financial aid forms.
>> To learn more about the Mobile Go Center, contact Belinda Saldana at 210-458-2904.
>> To schedule the Mobile Go Center in the San Antonio area, visit the UTSA P-20 Initiatives website.